Apex Legends is in the running for Best Community Support at The Game Awards. Meanwhile, Apex Twitter really only had one response…
Apex Legends, best known for not being able to hear that damn Octane that was RIGHT BEHIND YOU, is being nominated for "Best Ongoing Game" and "Best Community Support" in The Game Awards.
The nomination comes as the popular looting and lobby simulator won Best Multiplayer Game in 2019 in the same award show. Since release, Apex Legends has been nominated for Best Ongoing Game for three years in a row. 
However fans of the game are surprised at a secondary award that the game has been nominated for.
A Unified Community?
The Apex Legends community is uniting in a unique way following the nomination announcements. Reaction images ranging from politely confused cats to feral stick figures have been accompanied with a simple "Best Community Support." 
Twitter users are spamming the skull emoji almost as much as the F key when your pubs teammate sees an enemy 800 meters away.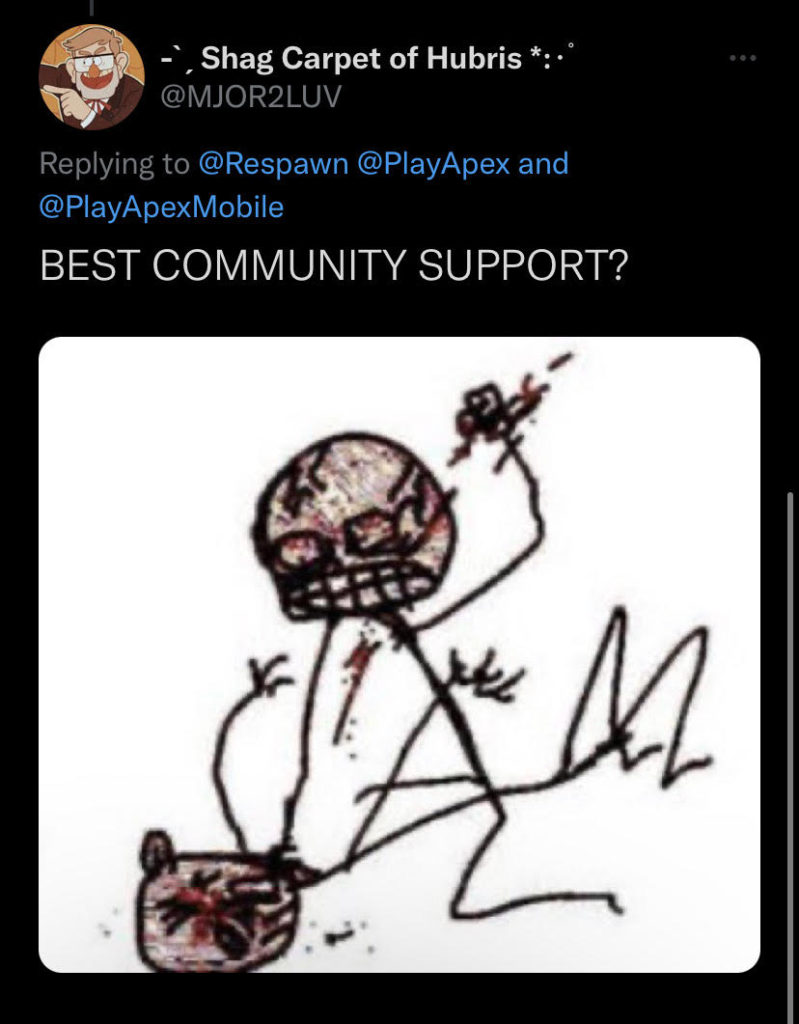 The pro reaction you clicked on this article to see…
FURIA's HisWattson added his voice to the chorus, tweeting "Best community support…" 
The tweet comes weeks after the pro player claimed that the #1 Apex Predator in ranked last season's split was boosted by a cheater. Respawn has not responded to these claims, especially after *ahem* issues between HisWattson and Respawn devs. 
Many fans of the Apex feel that devs are ignoring common issues like audio errors and freezing. Devs are fixing the more recent Heirloom Glitch, of course, in the 1.000.025 Patch Notes.
But seriously guys, it's a free game and it's good!
Apex Legends is a labor of love by so many devs and community members ever since its debut in 2019. The constant updating of the most innovative battle royale on the market has spawned an unparalleled Esports scene.
The rich characters and interactions have created a community of people weirdly obsessed with who these murder machines are kissing. Many feel that Respawn deserves these nominations. And there's a chance to show your appreciation by voting on the Game Awards website.
(Author's special shoutout to my personal favorite Respawn community people and artists to follow on Twitter. David "@frozenfroh", Alex "@alex_frostwolf", Lila "@lilakeyLK", and Hoxdolum "@hoxdolum".
P.S. 
Just a little heirloom shard, please Respawn, as a treat?)