Alliance are extending the contracts of their Apex Legends team by two years.
Alliance are extending the contracts of their Apex Legends roster by two years. For Alliance Hakis, Yuki and Effect this will provide security and backing heading into the 4th year of ALGS.
This is a welcome announcement, not just for the three players, but also for the EMEA region in general. ALGS has been plagued by org departures. EMEA in particular has been heavily hit by somewhat of a mass-exodus.
However, Alliance are keen to emphasise they are fully committed to the ALGS and their roster.
esports.gg spoke to Alliance Hakis about the announcement of their new contracts.
Alliance Hakis happy to just focus on Apex
For Alliance Hakis, this announcement allows full focus to be on playing the game and preparing for Pro League. He first joined the Swedish organisation in January 2020.
"It feels amazing. I've been with them for a long time now and wouldn't want to be anywhere else. So, I'm really happy.
"It's just a great feeling knowing that you can only focus on Apex. You don't have to worry about anything else. You can just put your 100% into it and then you trust that everyone else covers the rest."
A particular highlight for Hakis is the Alliance fanbase. Alliance have a strong and loyal fanbase. For Hakis, being able to play in front dedicated fans is a highlight.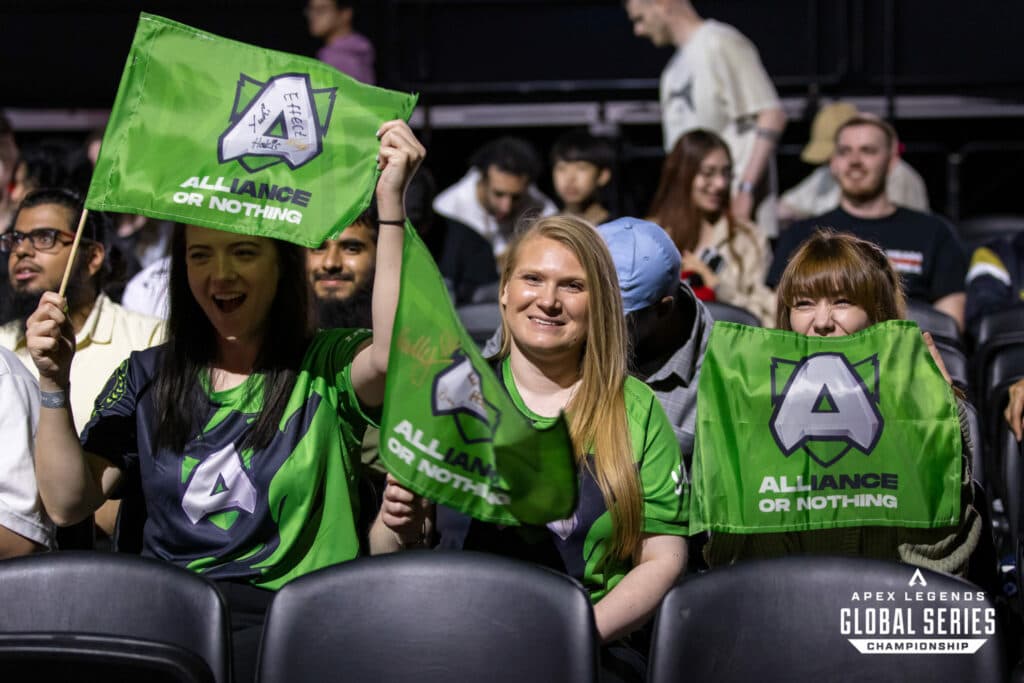 Photo EA/Joe Brady
Hakis is looking to deliver more success for the Alliance fans on the international stage in ALGS Year 4.
"Definitely a little bit disappointed with how [Year 3] ended, but also proud of our success. I think we showed that we're the most dominant team in Europe, however that's not our goal as a team. I personally don't really care about Europe, it's just a stepping stone to LAN, so this year hopefully we can do more than just dominate Europe and hopefully dominate LAN too. That is the goal at least."
Nerves, communication and RNG all needing to be fixed in Year 4
Hakis feels that when it comes to LAN finals, Alliance have plenty of areas to improve.
"It's a mix of everything I think. Nerves going into finals, just communication and overall RNG in the game. It's a bunch of everything that needs to be fixed for it to be perfect."
Does the pressure of being seen as the strongest EMEA team impact Hakis, given how important a win could be for his entire region?
"No, I don't think that has anything to do with it. I think it's just overall the final where it's the last thing and that's where it all matters. I think that's just the only thing."
Edge playstyle could be dead in Year 4 on Storm Point
One of the focuses for Alliance this off season will be adjusting to the new Storm Point map. Lightning Rod, their chosen spot, was one of the locations changed as part of the update. This could have a big impact on their gameplan on this map.
Speaking before the Season 19 update went live, Hakis feels that the edge playstyle may not be viable on the new version of the map.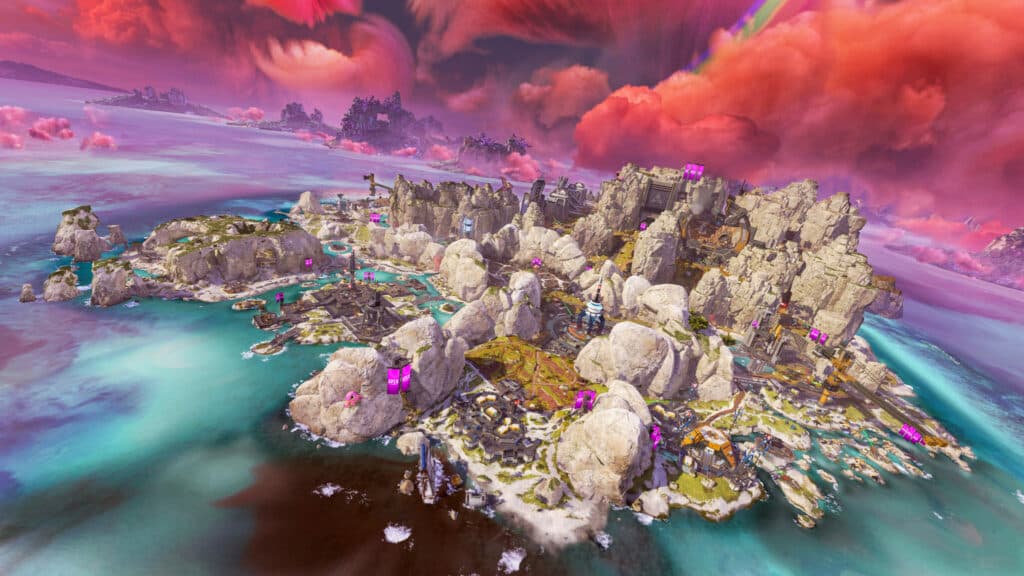 Storm Point in Season 19 (Photo EA/Respawn)
"The storm point changes has basically somewhat killed edge, I think. Or, edge is gonna be much harder now since you're not gonna be running around with the same amount of loot. The IMCs are now gone and there's reduced amount of PvE so getting that triple red before even shooting your gun is gonna be even harder now.
"We'll see how it plays out. I think the map has they've reduced a lot of dead areas and they've made the map smaller so there's going to be a lot more sound rotates now I think. But let's wait and see how it plays out. I'm excited though."
Alliance Hakis hoping for more changes before Pro League
While the changes in Season 19 will present challenges, it also brings a much needed shake up of the meta and the maps. However, it does not seem like there will be a big shift away from legends like Catalyst and Bangalore despite nerfs.
"It's always nice to play something new. It gets stale pretty quick, like a month or two of the same meta and you're already tired of it. So it's nice to keep the game fresh and evolving at all times.
"I am hoping for more changes though, because otherwise the game will look the same, but play the same in just different areas. So, hopefully we can get some more changes. I know there's going to be a big patch around when Pro League actually starts. Which is kinda bad timing, but also good timing, I guess. We'll see how it plays out though."
Photo EA/Joe Brady
Change in zone timings top of Alliance Hakis' wishlist
Alliance Hakis is hoping for a shake up in how fast the zones move, to give fights a different dynamic
"The biggest change that I would want personally is a change to the zone system. How it moves, how fast it closes and how much damage it does. Just make the zone move way, way slower. Do way, way more damage. I would not mind having 20 damage per tick even zone 1 as long as the zone 1 is closing incredibly slow so you can actually have time to out run it.
"I feel like that's one of the most frustrating game plays in zone 3, zone 4, zone 5 is when you're stuck at the edge of the zone, zone starts closing and you can't even out run it. You're just running for your life getting shot at by the entire server and it's kind of boring gameplay"
Will Alliance benefit from roster stability?
While the Alliance roster is staying unchanged in ALGS Year 4, the vast majority of EMEA rosters will look extremely different when Pro League resumes. Big teams like JLingz, KCP and ACEND have totally disbanded with several major roster shuffles taking place.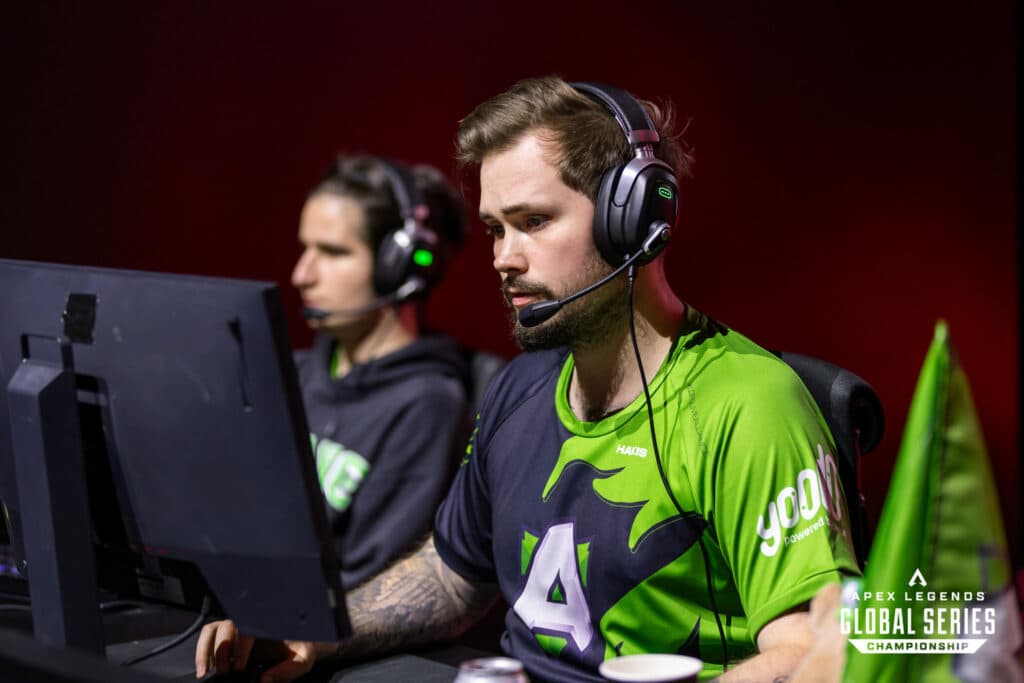 Photo EA/Joe Brady
New teams have to settle into their roles, establish their spot on a map and build understanding and Chemistry. This could give Alliance Hakis a major advantage at the start of the year.
"I think definitely we're going to have an advantage at the start. There's still three months left, so a lot of teams can figure out their issues, but since almost every single team is swapping rosters, it's going to be a growing period for sure. Growing pains and all that, where people figure out their roles within teams.
"Because right now I feel like most teams have just kind of… they've kind of just picked up the players that they know that are good, that doesn't necessarily fit the roles that they want, so it's going to be even more necessary for the players to figure out their new role within teams.
"And it's not always that easy for like a previous fragger to turn into a support player and actually like watch your team's back and stuff like that. So we'll see how it plays out. Hopefully Europe grows as a region. We are pretty weak at the moment."
Alliance Hakis didn't feel that any particular roster stood out at this point as a major threat to their dominance in EMEA.
Moving regions not necessary for Alliance
More and more teams in the ALGS are looking towards North America for competition. Teams like Moist have relocated, and even EMEA mainstays like Kashera explored the possibility of relocating.
The argument at this stage is because competition is so high in North America, those teams will have a big advantage at LAN events. This is a bit of a self fulfilling prophecy, as the more teams that relocate there the more likely it is to be true. Hakis isn't worried about this becoming an issue, however.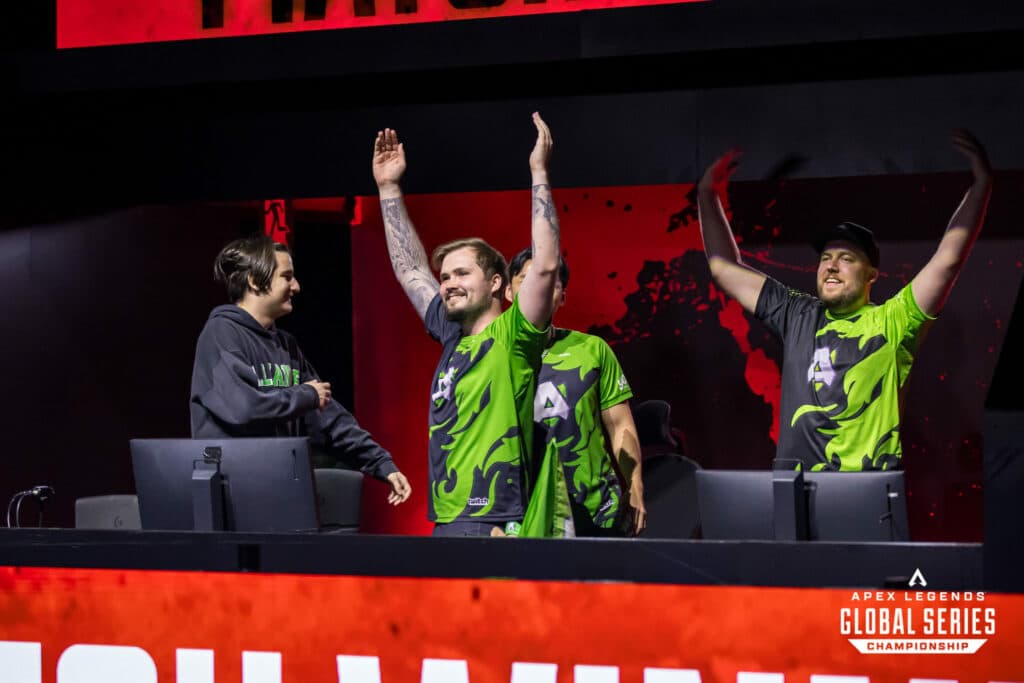 Photo EA/Joe Brady
"I think it should be fine. Even though NA is turning more and more into super region with more teams like Moist relocating, the practice over there will be a lot higher quality. However, we're still doing the same practice in before LAN with the champ scrims and all that so it shouldn't be that much of a difference.
"As long as you're not delusional in your own region and you just play to your own region, you should be fine. Because like you keep saying, LAN is all that matters.
"Your own region doesn't matter, which is like a problem with a lot of previous regions is EMEA has tried to play EMEA region in LAN and then APAC has tried to play APAC at LAN, South America has tried to play South America at LAN and it doesn't hold up. So you have got to play towards LAN, that's all that matters."
Alliance manager Pontus wants to help reignite passion in EMEA
Also speaking to esports.gg, Alliance Apex Legends General Manager Pontus was keen to emphasise their desire to see the ALGS and the game grow.
"A two year deal has been standard for us for the past few years, it showcase commitment towards the players and also our fans. We like Apex and want it to succeed, we take pride in being the powerhouse of our region and therefore it's natural to us to continue with this roster.
"We thought about moving regions, of course it's attractive but we are committed to EMEA and want to help reignite the passion that we saw in the early days. For that to happen we need more tournaments which is something we're exploring right now with a few partners."
While some organisations like NRG have expressed frustration with how EA are handling the ALGS, Alliance feel the ALGS is on the right path.
"ALGS has been taking some heat during this year but we have a good relationship with EA and Respawn and also know that it's moving in the right direction. We already get stability in knowing what the ALGS circuit is and hopefully we can attract more third-party organizers to continue developing regional competitions. This year's LAN experience was phenomenal and next year will be even better!"