51 kills to his name in the groupstage, Tyler "Tyler" Wood heads into the ALGS EMEA Finals as part of New Esports, the highest ranking team in the group stage. We spoke to the Brit about his career, the groups and finals in his first ever interview.
Tyler on his last day of work as a training electrician
The ALGS EMEA Finals are less than 24 hours away and the orgless squad New Esports head in as strong contenders for the title after finishing top of the group stage overall.
All three of the New Esports players finished in the top 10 in terms of kills, and their British Apex Legends player Tyler "Tyler" Wood was ranked 1st, securing a staggering 51 kills during the group stage.
Before the Apex Legends Global Series Regionals kicked off, Tyler was an electrician in training, having apprenticed with a friend of the family since he was 16 years old.
However, in April this year after a brief stint back at work post-lockdown, the now 20-year old Tyler decided to quit to concentrate on Apex Legends, and responded to the call of Francisco "k4shera" Miguel Nogueira Alves. K4shera, a Portuguese in-game leader was looking for "shooters" for his team New Esports, and Tyler answered the call.
Tyler's competitive experience is limited, and his total prize earnings so far in his career amounts to just $679, yet his life could change dramatically this weekend. Not only could he win enough money to justify pursuing competitive Apex as his career but a solid result could lead to the trio being picked up by an org. We spoke to the Brit ahead of the $690,550 ALGS EMEA Finals in his first ever esports interview.
Malystryx: Hello Tyler, so this is your first ever interview and it comes off the back of you being the highest fragger in the ALGS EMEA groupstages. How did you end up at this point?
New Esports Tyler: "I've been jumping around teams, trying to find the best. I've been on a lot of teams before where there's never been like a really strong in-game leader (IGL). I've been saying for a really long time, I've actually wanted to play with k4shera and Postkill. K4shera, in my opinion he is one of the best IGLs in the game. And his fanbase around him, PostKill and the name New Esports is actually incredible. They tweeted out saying they were looking for +1 and I reached out."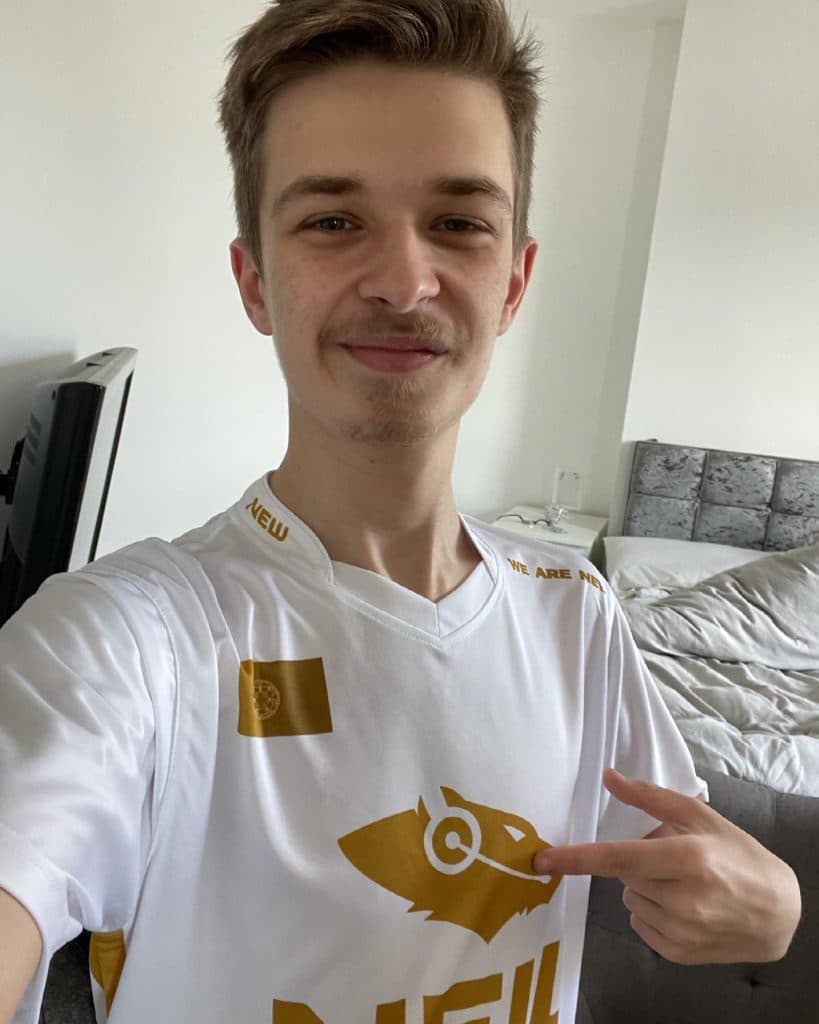 Tyler with the orgless New Esports merch
Malystryx: What makes K4shera such a good IGL?
New Esports Tyler: "K4shera is the main Shot Caller, he tells us what to do when to do it. He puts us in the best positions we can get into and he's the guy that's makes everything better. He chills everyone out, make sure we all know what we're doing. Make sure that we know what a plan is. And then we go ahead and execute."
Malystryx: What is the structure like in the team?
New Esports Tyler: "K4shera is the IGL and me are PostKill are the shooters. We're both individually really good mechanical players, good aimers and that's basically what K4shera was looking for in us. So he's calling all the shots and myself and PostKill just aiming to shoot everyone we see. "
Malystryx: As I said you came away with the most kills in the ALGS EMEA groupstage, how do you decide the balance between placement and kills during a match?
New Esports Tyler: "To be fair, I when I actually was the MVP for kills, I was really surprised. The playstyle we play I wouldn't say we play for kills, we're a position-based playing team.
My whole team was top 10 for kills actually, and that's really surprising, because we're not like a fighting team base. We're more positional based. I was genuinely shocked that my team was top 10, and I was even in first place for kills."
Malystryx: Does any play in particular stand out from the groupstage?
New Esports Tyler: "We did post a clip that blew up on Twitter, a play we did in the champs. K4shera, being a big brain IGL, came up with it. We were flying our Drone near a team and what teams like to do is drop their armour when they see a Crypto team to avoid his ulti. K4shera realised this then we basically just walked up on a team without them knowing. "
Malystryx: What's your ideal loadout weapons wise right now?
New Esports Tyler: "The easy choice for me is the R-99 because I'm a controller player. I can one shot people whenever really. My main loadout is the R-99 and then a shotgun. The EVA-8 is really really broken right now. If you're forced into a bubble or general fight, the EVA-8 is really good close range and can definitely decide who wins the fight."
Malystryx: That's quite a shock to hear you're playing on controller and not mouse and keyboard.
New Esports Tyler: "Controller has its pros and cons, obviously a big bonus is aim assist, which is why I like to play Wraith. I can get in people's faces and because I play controller, majority of the time I'm going to win my 1v1 or 1v2s. There's also the negative which is I can't look boxes while being in motion. However, I've worked out a trick to get round by mouse and keyboard loot while still playing on my controller. It means I can loot in the open, it's pretty big. "
Tyler's rather bizarre setup means he uses controller to play but mouse and keyboard to loot
Malystryx: You're running an unusual comp (Caustic, Crypto and Wraith) but it's brought a lot of success.
New Esports Tyler: "Yeah, so the comp we play is really good for us, we're playing Caustic but it's not a very meta comp. We also play Crypto so we can always get zone knowledge, we make sure to get the beacons. Playing Caustic allows us to just sit in a building and be safe. Whereas other teams like to grab Bloodhound, to get the scans to fight or playing Gibraltar to get the gibby domes to also force fights.
I think the comp we're playing now, Crypto, Caustic and Wraith is a very safe comp. People don't really like to push because we can always reset, throw your Caustic Gas down and a lot of teams can't deal with that. They don't want to fight against that kind of Legend. Caustic used to be hard meta but I don't think people use it anymore aside from Aqualix. "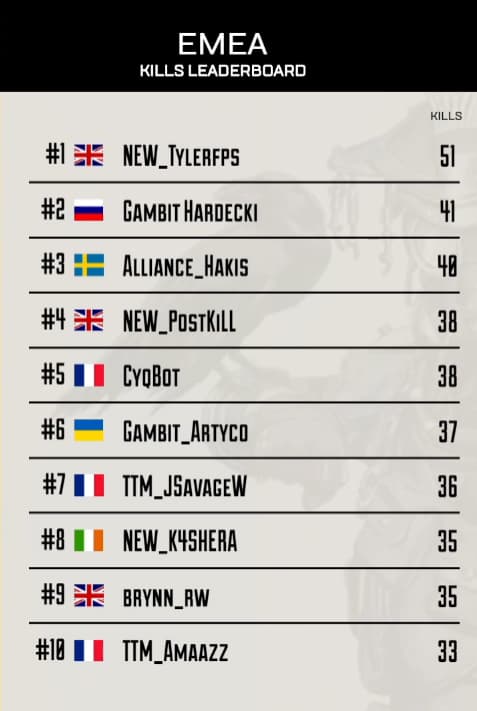 Tyler finished #1 in the Kills Leaderboard
Malystryx: How you enjoying the ALGS EMEA format? Any thing you think could be tweaked?
New Esports Tyler: "The only thing I'm so thinking like the only thing that sort of tickles my brain is the finals format. If you're on match point then teams are informed, and if they see you fighting in the kill feed then their focus is going to be on killing you.
I'm not sure if that's a good thing. The hard thing for us is there are only two teams that play the same comp, ours and Aqualix, so a team could just take a risk and go for us deliberately."
Malystryx: So basically what you're saying is this is bad but because your more easily identifiable because of your comp..
New Esports Tyler: "(laughs) Yeah, pretty much. But honestly players from other teams are convinced it's a bad addition, I would say its a bit of a 50/50 in terms of the reaction to the Finals format."
Malystryx: How do teams practise ahead of the Grand Finals? Is everything a bit hush hush or do teams openly scrim against their upcoming opposition?
New Esports Tyler: "Yeah, so there's a there's a pro Discord that basically all the competitive players are in. There's always scrims organised by either someone like Hakis from Alliance or Pjeh from Flavour of the Month. There were a lot organised for this upcoming week scrim as well. The last two days got cancelled because not enough teams wanted to play but yeah, there's always scrims being organised."
Malystryx: Who would you say are the three best IGLs in ALGS EMEA and the three best shooters?
New Esports Tyler: "In-game leaders I would say Gnaske plays for Aqualix, Hakis from Alliance (see our interview with him) and my team-mate and IGL K4shira. Shooter wise HAS to be Hardecki from Gambit Esports, SirDel from Aqualix and then 7ozzzus from Magicians, he's a really under-rated player. "
Malystryx: Well thank you for the interview (your first-ever as well!) This weekend could be life-changing for you, has that become apparent? Are you ready?
New Esports Tyler: " For me this is absolutely insane. I like to help my family a lot as well so if I win a lot of money I'm definitely going to share it. That's my main plan. I'm really really excited, I can't wait to play tomorrow. "