Best VALORANT video settings
Look no further for the best VALORANT video settings to help you on your competitive queue grind to Radiant.
Are you a casual enjoyer or an aspiring pro? No matter how much of your life you invest into Riot Games' first-person shooter, you'll want to ensure your copy has settings that work for you. This includes applying the best VALORANT video settings.
These settings will make your opponents easy to spot, make your game run smooth, and keep you on the top of the leaderboard if you're aim is crisp. Of course, everyone's system is different, so use them as a starting point and adjust them if you need to.
How to change your VALORANT video settings?
The steps to actually reach your settings in VALORANT are pretty simple:
Open VALORANT
Click the gear in the top right corner
Select Settings
Navigate to the Video tab to access your video settings
From there, you can alter your settings to get the best VALORANT video settings possible.
What are the best VALORANT video settings?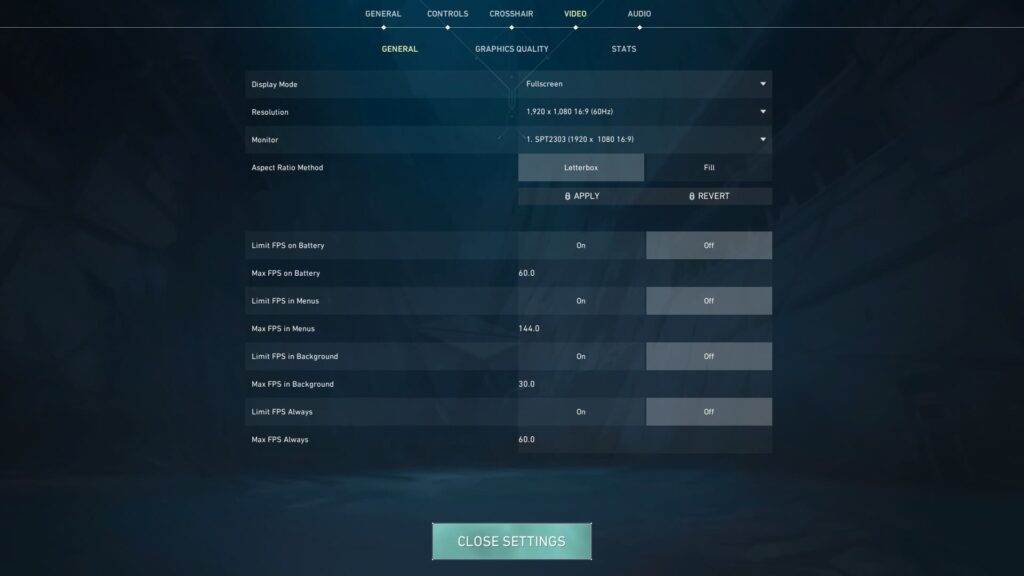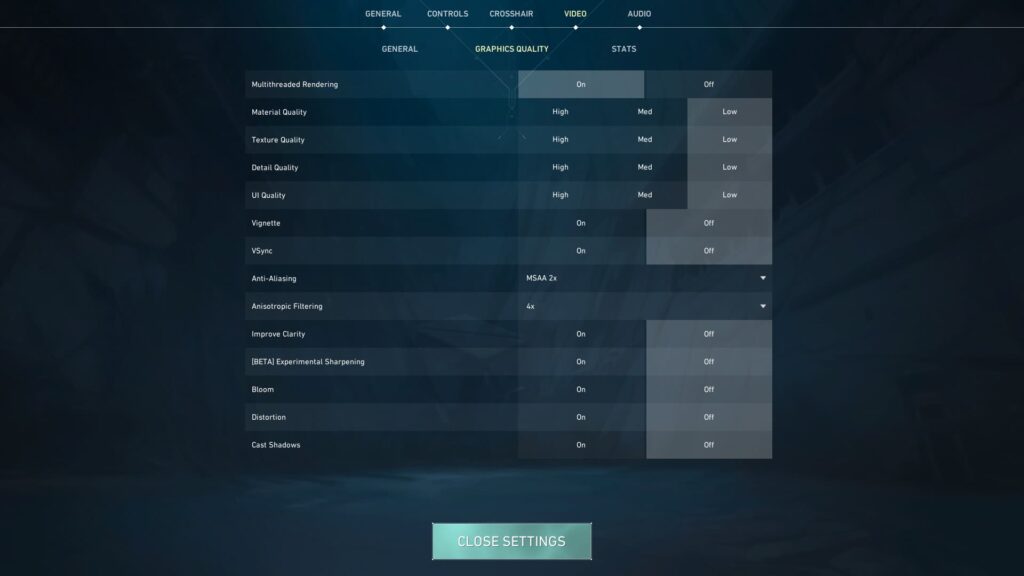 Most professional players will go to lower settings to make it easier to see opponents and limit distractions such as shadows and certain lighting. This is all subjective, so tweak them to your liking if you prefer more heightened graphics.
General
Display Mode: Fullscreen
Resolution: Your monitor's native resolution with the highest refresh rate
Aspect Ration Method: Letterbox
Limit FPS: Off
NVIDIA Reflex Low Latency: On + Boost (Only available for NVIDIA graphics card)
Graphics Quality
Multithreaded Rendering: On
Material Quality: Low
Texture Quality: Low
Detail Quality: Low
UI Quality: Low
Vignette: Off
VSync: Off
Anti-Aliasing: MSAA 2x
Anisotropic Filtering: 4x
Improve Clarity: Off
Experimental Sharpening: Off
Bloom: Off
Distortion: Off
Cast Shadows: Off
Stay tuned to esports.gg for more esports news and VALORANT guides to achieve the best settings possible.