Here is a step-by-step guide on how to request a refund for games on Steam.
Have you ever made a purchase on Steam and immediately regretted it? If you find a product on Steam unsatisfactory after purchase, perhaps due to it being a wrong version, lacking in quality, or you just simply changed your mind, you have the option to request a refund. And fret not, Steam's Refund policy is very accommodating and you should be able to get your money back easily.
Are you eligible for a Steam refund
These are the two main requirements if you want to refund products on Steam:
Purchased less than 14 days ago
Only played for less than 2 hours
If you bought a product and wanted to refund, you can only request a refund if it's within 14 days after purchase. Steam will likely consider it if it's a couple of days later. However, if it's significantly beyond the 14-day window, Steam will likely deny your request. Another requirement is you can't have more than 2 hours of playtime on the product.
You must follow these requirements before requesting a refund. However, certain cases might be an exception and you need to include legitimate reasons in the request to plead your case. Again, Steam is very accommodating when it comes to its Refund Policy.
The process to submit a refund request is fairly simple. Follow these steps to successfully submit a request.
How to submit a refund request on Steam
Step one: On Steam, go to the upper-left corner and click Help. From the drop-down menu, select Steam Support.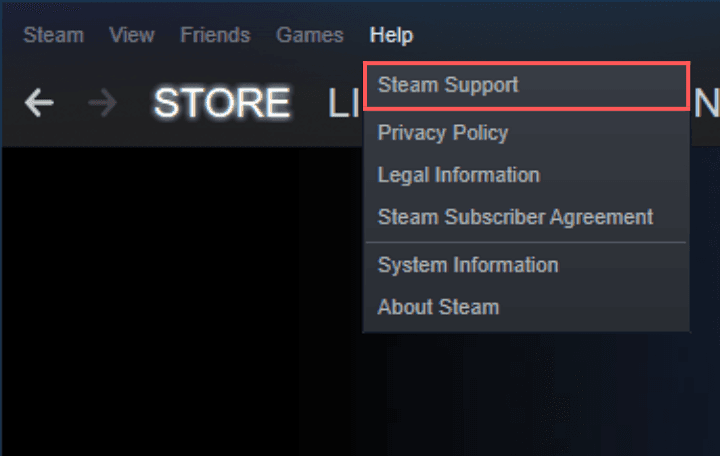 Step 1 to refund games on Steam.
Step two: Under the Recent Products tab, select the game or application that you want to refund. If it's not under the Recent Products tab, click on 'Games, Software, etc' to see all the products in your Library.
Step 2 to refund games on Steam.
Step three: A prompt will ask you 'What problem are you having with this product?'. Select a legitimate problem as to why you want to refund the product. Do not select 'I want to permanently remove this game from my account' because it merely removes the product and does not give you a refund.
After selecting a problem, click on 'I'd like to request a refund.'
Step 3 to refund games on Steam.
Step four: You are now at the 'Request a refund' tab. You can see the product that you have selected as well as the refund amount. The refund amount should be the same as your purchase amount. Now select a refund method which would either be your Steam Wallet or your linked bank account.
Step five: Select a reason as to why you want to refund the product. If the reason is not stated, you can write down your reason in the 'Notes' section. Click on 'Submit Request' and you are done.
Step 4 and 5 to refund games on Steam.
After submitting your refund request, Steam may take up to 7 days (or longer for international transactions) to process your refund. Once it is complete, you will receive an e-mail to alert the refund.
What products are eligible for refund on Steam
Aside from Steam products, you can also request for refund on downloadable content (DLC) and in-game content. However, if it's a DLC that irreversibly changes the product, it is not eligible for a refund.
Note that for DLC or in-game content, the policies are different depending on the publishers. If it's a Valve-developed product, you only have about 48 hours (2 days) to request for a refund and it should not be used, modified, or transferred. If the product is by other developers then the policy might be different.
You can also request for refund for gifted games or software. If you request a refund on the gifted product, the refund will go to the person who made the purchase.
In case you purchase a product before it goes on sale and you wish to get it at a discounted price, you can still request a refund. You will get a refund based on the original price.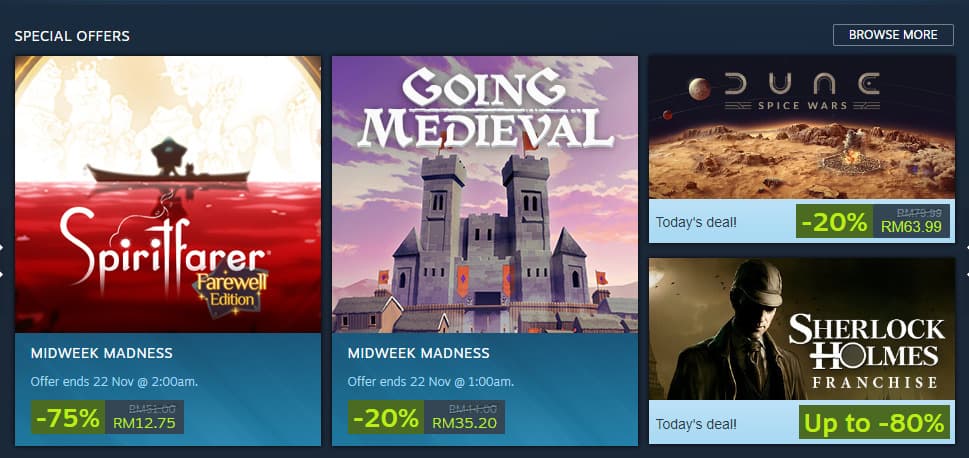 You can refund discounted products on Steam.
Remember that all of these eligible products for refund, whether being DLC content, gifted, or discounted product, must all follow the basic requirements in the Steam Refund policy - must been purchased less than 14 days ago and only has less than 2 hours of playtime.
Do not abuse the refund system
The Steam Refund system is once again very forgiving. However, if a user is detected abusing the refund system, they may be flagged and not allowed refunds in the future. Do not spam or carelessly request for a refund unless completely necessary.
A banned user won't be able to refund games as well. If you have a VAC (Valve Anti-Cheat System) ban specifically for a game or on your account, you won't be able to refund games on Steam.
What if your refund request has been denied?
If you feel like you have a valid case and your refund request has been denied, you can contest the decision by submitting another request. The request will be reviewed by another Valve employee.
Stick around Esports.gg for more gaming guides!