The catch rate in Pokémon Go is influenced by a number of factors and players that know how it works can get the most out of their Poké Ball and throws. Here's a guide on how it works.
Pokémon Go is a seemingly simple game with hidden depth, and like with all Pokémon games, the complexity lies in the match behind catch rates for different Pokémon and the tools the player has access to. One of the key differentiators between Pokémon Go and regular Pokémon games is the fact that you don't have to battle Pokémon and damage them to catch them. So in Pokémon Go, it all comes down to the catch rate.
Catch rate depends on several factors. If players want to maximize their chances of catching a Pokémon, they'll need to combine these factors. These factors include the species of Pokémon, the type of ball the player is using, what kind of berries they have access to, and the skill behind the throw. Every factor comes with a multiplier and these multipliers stack depending on the combination applied by the player. Here's how it works:
How to get the best catch rate in Pokémon Go?
Pokémon species and strength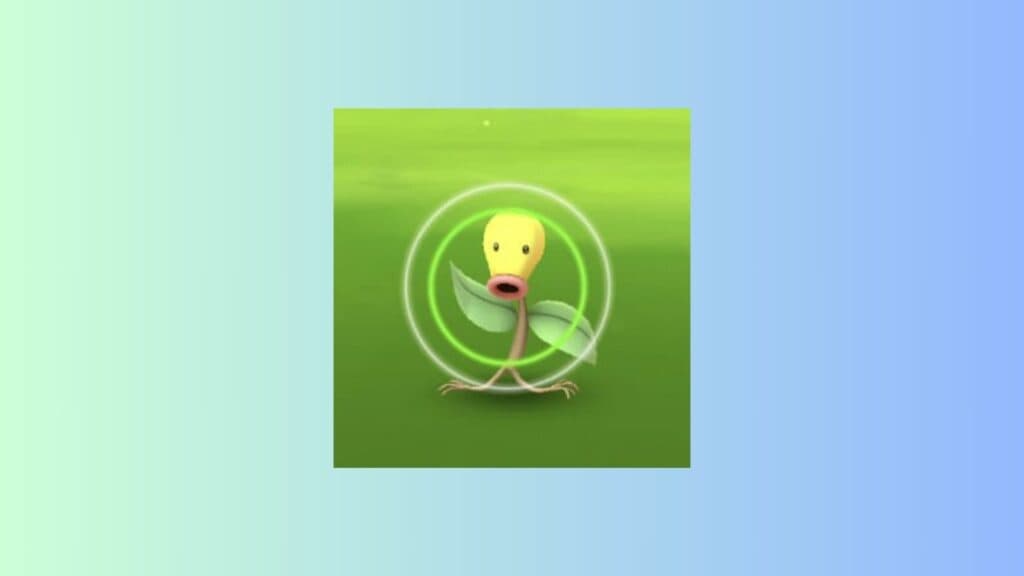 A green circle indicates the Pokemon will be very easy to catch
To start with, catch rate is influenced by the specific Pokémon species the player is attempting to catch and its strength. For instance, in the image above, a Bellsprout is among the easier Pokémon to catch. A weak Bellsprout will not put up much of a fight in terms of catch rate. On the contrary, a strong Tyranitar, for example, will be much more difficult to keep contained in the Poké Ball after catching it.
An easy indicator of catch rate is the color of the ring that closes in on the Pokémon in the circle. This color can range from green to red. A bright green ring indicates the highest catch rate whereas a crimson red ring indicates the lowest. Usually, rare Pokémon species with high Combat Potential (CP) are the ones with red rings and low catch rates. Every Pokémon starts with a base multiplier of 1. It decreases from this based on its catch rate difficulty.
Type of Poké Ball used
There are three different types of Poké Balls players have access to in general gameplay. Their catch rate multiplier distinguishes them.
The easiest way for a player to control and improve the catch rate is to throw a better Poké Ball at the Pokémon. Players can stock up on Poké balls by spinning PokéStops.
A regular Poké Ball, with the traditional red and white design, has a basic 1x multiplier. A Great Ball, with the blue, red and white design applies a 1.5x multiplier to the catch rate. The Ultra Ball, which is the one with a black, yellow and white design applies a 2x multiplier. The Premier Ball, which players receive a temporary supply of after defeating a raid boss or Team GO Rocket opponent apply the same 1x multiplier as the regular red Poké Ball.
Needless to say, Great Balls and Ultra Balls are rarer to come by but are still available aplenty if players spin enough PokéStops.
Using berries to improve catch rate
Berries can be fed to Pokémon before catching them. Some of them improve catch rate.
Another easy way for players to improve the catch rate is by feeding the right berry to the Pokémon. While the Pinap Berry and Nanab Berry have a negative impact on the catch rate multiplier, they come with other benefits. The Pinap Berry doubles the candy you get for catching the Pokémon. Meanwhile, the Nanab Berry prevents the Pokémon from moving around or taunting you, making it easier to aim the throw.
The berries that really matter if you want the best catch rate though, are Silver Pinap Berries, Razz Berries, and Golden Razz Berries. Razz Berries apply a 1.5x catch rate multiplier. Silver Pinap Berries apply a 1.8x multiplier to the catch rate and also come with the same benefits as regular Pinap Berries. Golden Razz Berries apply the highest overall catch rate multiplier in the game at 2.5x. Of these, only Razz Berries are easily obtained. Players need to complete special quests, field research, or win raids and special Team GO Rocket battles to earn Silver Pinap Berries and Golden Razz berries.
Aim your Poké Ball throws to improve your Catch Rate
Aiming your Poké Ball throws well rewards you with improved catch rates in Pokémon Go
The ring that closes in on a Pokémon you're catching isn't just for show. It's a reticle designed to help you aim better and increase your chances of the Pokémon staying in. It's easy enough on paper but requires patience and precision. Simply put, you'll need to aim for the central point of the ring. The smaller the ring, the better the throw. If the ring is large, you get a Nice throw which applies a 1.3x multiplier. If you land the ball in the middle of a medium-sized ring, you get a Great throw which applies a 1.7x multiplier. The most difficult throw is the Excellent throw which needs the ring to be very small for a 2x multiplier.
Spinning the Poké ball around before throwing it results in a curveball throw
In addition to this, you can add to the aforementioned multipliers by throwing a curveball at the Pokémon. To do this, you need to spin the Poké Ball around before you throw it. The Poké Ball gets a spinny, sparkly animation effect around it when you do this, indicating that you're going to get a curveball bonus if it lands. The curveball applies a 1.7x multiplier to any type of throw you make. By this logic, an excellent throw with a curveball is guaranteed to maximize your catch rate from the throw in Pokémon Go.
Bonus XP from Poké Ball Throws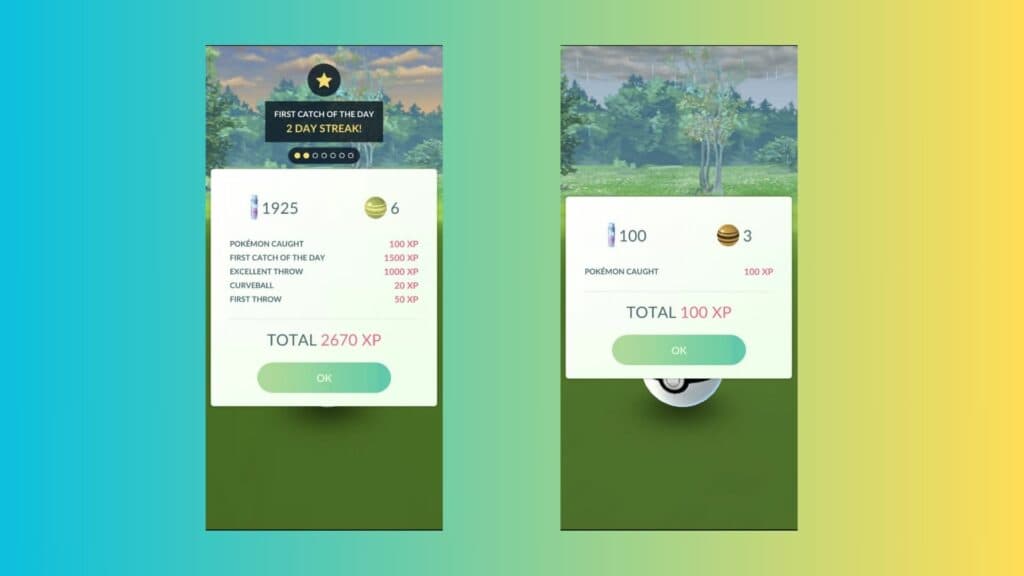 Throws can be exploited to gain maximum XP for catching Pokémon as well
While better throws do improve your catch rate, they also serve another purpose. They can increase the amount of XP you receive from catching a Pokémon as well. For instance, you can see from the image above that a regular throw without any curveball will just yield 100XP. On the contrary, on your first catch of the day, if you manage to land an Excellent Curveball throw, you can earn as much as 2670 XP. Even if the Pokémon isn't your first catch of the day, an excellent throw alone is worth 1000 XP. Here's a breakdown of XP bonuses from throws.
First catch of the day - 1500 XP
Excellent Throw - 1000 XP
Great Throw - 100 XP
Nice Throw - 20 XP
First Throw - 50 XP
Pokemon Caught (No throw bonus) - 100 XP
How to maximize catch rate in Pokémon Go
The best way to optimize your catch rate in Pokémon Go is to assess the aforementioned factors that are under your control. Ideally, you'll want to get an Excellent Curveball Throw with an Ultra Ball after feeding a Golden Razz Berry to the Pokémon to get the maximum possible catch rate. The species and strength of the Pokémon is beyond your control. However, it's best to assess the situation. Sometimes, you want to prioritize getting more candy over an improved catch rate, in which case, feed a Pinap Berry or Silver Pinap Berry to the Pokémon. Here's a multiplier chart for your reference.
| | |
| --- | --- |
| Regular Poké Ball or Premier Ball | 1x (No Multiplier) |
| Great Ball | 1.5x |
| Ultra Ball | 2x |
| No Berry/Pinap Berry/Nanab Berry | 1x (No Multiplier) |
| Razz Berry | 1.5x |
| Silver Pinap Berry | 1.8x |
| Golden Razz Berry | 2.5x |
| Regular Throw (No Bonus) | 1x (No Multiplier) |
| Nice Throw | 1.3x |
| Great Throw | 1.7x |
| Excellent Throw | 2x |
| Curveball | 1.7x |
You'll need to come up with the best combination of bonuses to optimise your catch rate while capturing a Pokémon
Overall, the factors under your control are your throw skill and the types of berries and Poké Balls you have in your inventory. You'll need to combine the best of these to get the highest possible catch rate in Pokémon Go. Most Pokémon are simple enough to catch. But whenever you encounter rare species or legendary Pokémon, these can pose a challenge to catch.
Of course, there are also other factors that you could take into consideration. For instance, Pokémon encounters from field research or quest rewards have a 100% catch rate so you're pretty much guaranteed to catch them unless you miss all your throws and run out of Poké Balls. Pokémon encounters from raid battles also have improved catch rate multipliers. Regardless of this, legendary raid bosses can still be challenging to contain.
---
Stay tuned to esports.gg for the latest esports news and more Pokémon guides.