A guide on how to get the fatality and how to perform it.
Mortal Kombat 1 players can get the Thanksgiving fatality and perform a gruesome finishing move on their opponents. Read on for how to unlock the Mortal Kombat 1 Thanksgiving fatality and how to execute it.
How to get the Thanksgiving fatality in Mortal Kombat 1
Players who bought the Halloween fatality for $10 can access the Thanksgiving one for free. They will also receive an upcoming Winter fatality at no extra cost. The official Mortal Kombat 1 account on social media confirmed this.
For context, the Halloween fatality became the game's first paid one, and some Mortal Kombat 1 players were unhappy about the items prices in the game's premium shop.
"Next week, you can access the Seasonal Fatalities bundle, which includes the Halloween, Thanksgiving, and upcoming Winter fatality," the game's account posted on social media. "Those who purchased the Halloween fatality will have access to the bundle at no extra cost." The post also thanked players for their feedback.
Another way to unlock the fatality in Mortal Kombat 1 is by purchasing the seasonal bundle for 1,200 Dragon Krystals, according to another post made on Nov. 17.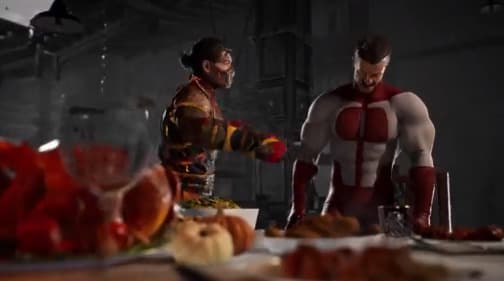 Thanksgiving fatality screenshot (Image via Warner Bros. Games)
How to do the Mortal Kombat 1 Thanksgiving fatality
After equipping the fatality, players must jump into a match. Duke it out until the announcer says, "Finish him" or "Finish her." Then, hold the block button before pressing the down button twice. Make sure to stand in close range.
The Thanksgiving fatality features slamming an opponent's jaw on a table and stuffing their face with food. The player then jumps on top of their opponent's stomach, making the latter vomit.