The Great Amalgamation Hearthstone Tavern Brawl decks
A free pack is waiting for you in this Great Amalgamation Hearthstone Tavern Brawl, check out the article for deck codes.
Hearthstone's Great Amalgamation Tavern Brawl is here, and in this article, we will give you 100% of what you need to know to get that free pack, including some decks to try. All kinds of tribal synergies are possible in this Tavern Brawl, so grab a deck and go crazy!
"What horror has science wrought!? Build a deck, all minions count as Naga, Undead, Murlocs, Beasts, Dragons, and the rest!"
Hearthstone Tavern Brawl deck-building advice
The Great Amalgamation Hearthstone Tavern Brawl makes its third appearance and given that it includes Wild cards some old decks might also work. However, this time we have the new Undead minion type and that opens new possibilities.
In this Tavern Brawl, most decks will be filled with minions, so having initiative is key. Some cards can let you swing the board in your favor such as Firemancer Flurgl combined with Toxifin, but as a rule of thumb, try to stay ahead on board.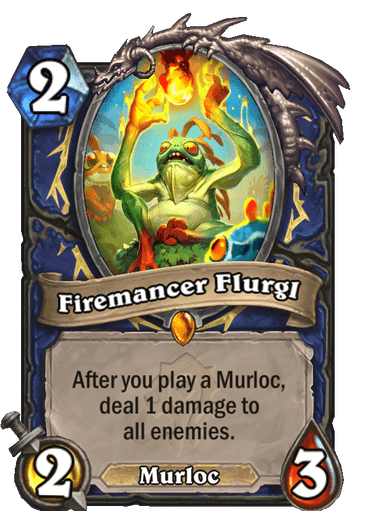 Shaman seems to be in the driver's seat for this Tavern Brawl due to some key tribal class minions. Murloc synergies create amazing decks when combined with other tribes, and if you add some efficient card draw you get a deck that can get you your Great Amalgamation Hearthstone Tavern Brawl free pack
Rami94, former Hearthstone Grandmaster and streamer, combined a similar shell with Brann, Bolner and Scargil to create a combo deck for this Brawl. So if you want to have some extra fun on top of getting a pack, give this deck a try.
Deck codes
The following Hearthstone decks are some examples of what can work in the Great Amalgamation Hearthstone Tavern Brawl.
Tempo Shaman:
AAEBAZu1AwSRvAKcmwPf4QOo7gMNuwO/F+TCAovOAoyUA7WYA5ToA+DsA63uA5XwA6aBBKugBMXOBAA=
Rami94's Combo Shaman:
AAEBAfe5AgrFBLmyArWYA5ybA6juA4b6A7CKBOWwBOnQBJjUBAqLzgLhzAPw1AOF+gPwhQTckgTVsgTFzgSGoQXpowUA
Both these decks abuse the Great Amalgamation Hearthstone Tavern Brawl rules to turn Clownfish into a powerhouse. Watch out for crabs eating your minions. They are hungry and will put whatever you put in front of them.
I hope you enjoy this Tavern Brawl and that you find these decks useful. so stay tuned for more news and updates. Be sure to visit Esports.gg for all the latest esports news. See you next time in Bob's Tavern.