Get the most out of your Hearthstone Arena runs with this Tier List, including Heroes and Cards, to get that shiny 12 wins reward key.
If you want to farm Hearthstone Gold and Packs Arena is the best game mode to do it, and for that, we are bringing you a Tier List and many tips to help your runs. Arena offers a great experience for players wanting to progress in the game. It's a great way of learning basic game mechanics and also, given a good performance, farming resources to complete a collection.
That is why we will analyze the different classes' power levels and show you useful resources to use in the game mode. Let's go over everything you need to know about Arena and its class Tier List.
Hearthstone Arena Class Tier List
Arena is a Hearthstone game mode in which you pick a class and draft your deck one card at a time, from a selection of three options. Then, the action starts, battling against other players in a knock-out-style format with sweet rewards depending on your performance. In Arena knowing Hearthstone's fundamentals is as important as knowing which the best classes are, so let's start with the Tier List.
Arena Class Tier List - October 2023
Hearthstone Arena Tier List Classes
For this Tier List, we will be taking data from two of the best Hearthstone statistic sites: HsReplay and HearthArena.
HearthArena Class Tier List
These Hearthstone Arena Tier Lists are pretty straightforward. The better the win rate or tier, the better chances you will have for an amazing run. However, sometimes you are not offered any of the decent options, and you have to maneuver with an underperforming class. Don't lose hope you can still have a good run despite missing the best in the Tier List.
If that is the case, try to center your draft face on building a deck that can exploit your class' advantages. For example, if the best class you are offered is Hunter, you should try to lean towards building an aggressive deck and maybe pass on good value cards favoring direct damage or early-game minions. It's not the best scenario, but adapting to what you have, and playing toward that, will help you squeeze in some extra wins.
Card Tier List for Hearthstone Arena
In the same way that some Heroes are better than others, some cards are way better than the others offered during the draft. Identifying each card's potential is paramount for succeeding despite not getting a good Hero or getting a shot at that 12-win run. Let's talk about Hearthstone Arena Card Tier Lists and the tools you can use to make your life easier.
HsReplay Card Tier List
If you are in doubt about which is the best card to pick, one of the best ways to decide is to see the stats. HsReplay has a Hearthstone Arena Card Tier List full of data that you can use to maximize your deck's power level.
HsReplay Arena Card Tier List
This list will give you a sense of which cards are the best ones (use Deck Winrate stats) and their popularity (In % of Decks). These are two good indicators you can use to decide which are the better cards. Furthermore, you can use the search tool to turn this Hearthstone Arena Card Tier List into a picking tool. Write the names of the cards you are offered and you will clearly see the difference between them.

HsReplay search Arena Card Search Tool
These filters are also useful to learn what's more likely to be in your opponent's hand and deck. HsReplay allows you to filter by class, so if you select your opponent's class, you can get a rough estimate of what are the most popular cards you will be facing. This way, you can play a bit around them, estimate when their powerplays could come, and not be crushed by an AoE effect.
HearthArena Tool
One of the most popular Arena tools that have the same Tier List focus is the HearthArena app. This app works similarly to HsReplay, but it has an in-game overlay to help you during the draft. It gives each Hearthstone Arena card a specific Rating in its own data-driven Tier List and displays it during your draft. Moreover, it tells you possible synergies with the rest of your deck and warns you if you are missing any type of card.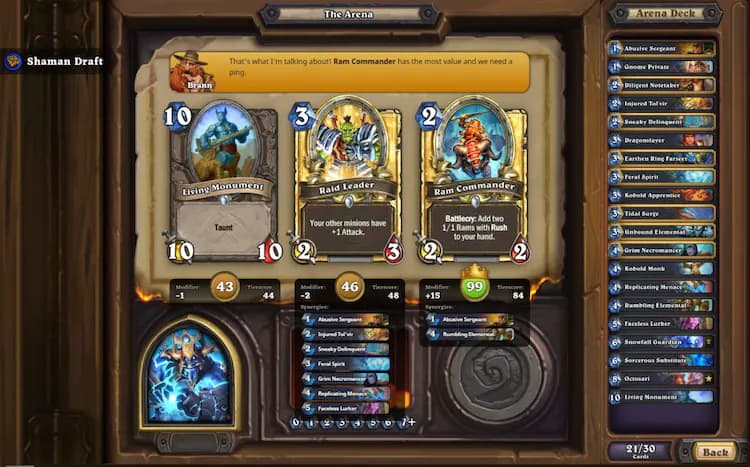 HearthArena Drafting Assistant
You can also access the Hearthstone Arena Card Tier List in the HearthArena app or on their webpage too. On top of that, HearthArena also records your performance so you can track your runs and see how you are doing.
Furthermore, HearthArena also offers its own Card Tier List for Arena. Using the companion app you can check the card value filtered by class. While this list does not include popularity stats, it would be safe to assume that if you are past five wins, you will probably encounter high-quality decks, so play around the top cards for your opponent's class.
I hope you have enjoyed this Arena Tier List and the extra tips. That's all for now, but stay tuned for more Hearthstone news and guides. Be sure to visit esports.gg for all the latest esports news as well.