Will EA FC 24 have crossplay?
Is there finally going to be a cross-platform FUT market?
EA FC, and EA Sports FIFA games before it, have always been some of the most social video gaming experiences. This always leads to people wanting to play with and against each other. Will this be a thing in EA FC 24? Will EA FC 24 have crossplay?
EA FC 24 releases worldwide on September 22 for Early Access.
Players have continually clamored to be able to play alongside their friends on different consoles and EA have made strides year-on-year in this department. In FIFA 23, co-op Division Rivals came to Ultimate Team.
Will EA FC 24 have crossplay?
The short answer is yes! The long answer is a bit more complicated than that. Crossplay is available in EA FC 24 but not in every mode and not for every feature.
EA have done a crazy good thing this season by adding in crossplay to the Clubs gamemode. This has been the most highly requested feature for years and finally players across PlayStation, Xbox and PC will be able to line up as their pro on the same team.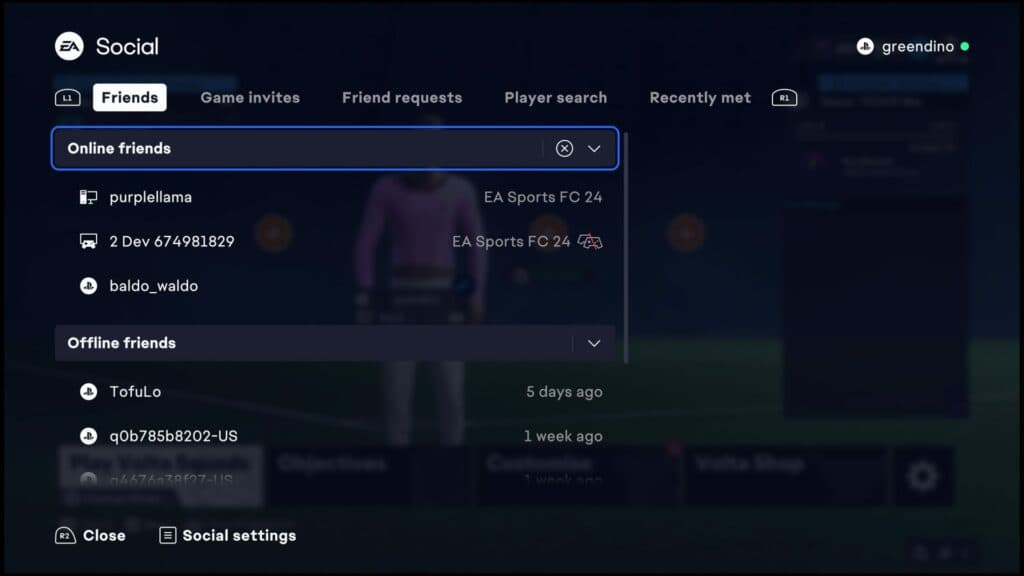 The EA social menu for crossplay in EA FC 24.
Crossplay against other players will be available in the following gamemodes in EA FC 24:
Ultimate Team (Rivals, Champions, Online Draft, Online Friendlies, Play a Friend)
Online Friendlies
Online Seasons
Co-Op will be available in the following gamemodes in EA FC 24:
Clubs
Co-Op Season
VOLTA FOOTBALL™ (Arcade, Squads)
Ultimate Team™ Co-Op (Squad Battles, Rivals, Friendlies)
Another unfortunate aspect of the crossplay in EA FC 24 is the separate Ultimate Team marketplaces. PC FIFA will continue to have its own, separate, economy in Ultimate Team. There were originally rumors that the Ultimate Team markets would be consolidated, but that turned out to not be the case.
This was disappointing to many, especially PC EA FC players, who are desperate to be taken seriously in the space.
How to play crossplay in EA FC 24
Playing against other players from other consoles in online modes will be active by default from the first launch of EA FC 24. Players will have to make the conscious decision to turn it off.
The menu for adding friends in EA FC 24.
Playing with your friends in co-op modes is also incredibly easy. EA's new social platform makes it easy to have one centralised friends' list full of the people that you wish to play with.
Opening up the EA friends list at any time in your game will allow you to invite your friends to the game you wish to play. If you are playing Clubs, you don't even need to do that, you just pop into the Clubs mode and wait for your team to follow into the match screen.