The ultimate build and farming guide for the Genshin Impact four-star Electro character, Dori.
Dori was the second four-star character to release for Sumeru. She has an interesting attack style as she doesn't fight enemies herself. Instead, she uses an Electro vision, coupled with a genie who swings around a claymore for her. This makes her fighting style look rather unique, something that Hoyoverse has been working towards since some of the Inazuma characters released like Heizou. If you love Dori's design and want to use her on your team then you are going to need to build and ascend her.
Best Weapons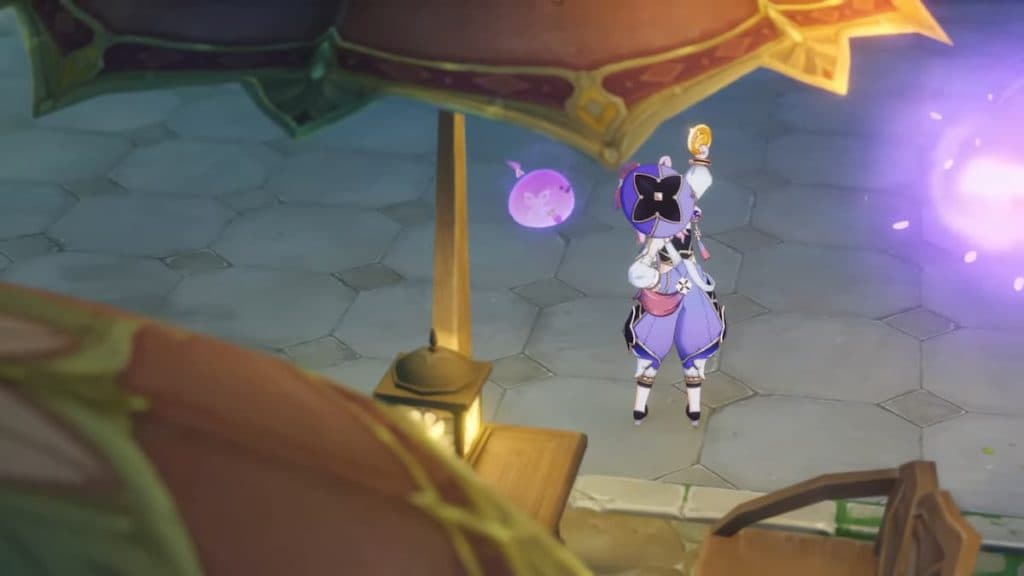 Dori uses a claymore, and since she is a four-star character, she doesn't have a specialty weapon you need to worry about pulling for. She can function perfectly fine with a four-star weapon, although many claymores are built for physical attack. With Dori, you want to concentrate on helping out her elemental skill and elemental burst.
Here are the best bows to use with Dori in Genshin Impact:
The Bell: This claymore boosts Dori's health and will generate a shield equal to 20% of her max health. When the shield is active, she will do twelve percent more damage.
Favonius Greatsword: This claymore focuses on helping Dori with energy recharge, and its passive ability gives her the chance to regenerate energy as she attacks.
Both of these swords are four-star weapons that you likely already have in your inventory. In fact, you are likely to find that you have quite a few copies if you've been playing for a while. They can be obtained through any in-game banner and are pretty easy to refine.
As Sumeru moves along, we will most likely see a five-star weapon release that better works with Dori. We may also see a better artifact set than the ones listed below. Early builds often change as HoYoverse expands each region and adds in more content.
Best Artifacts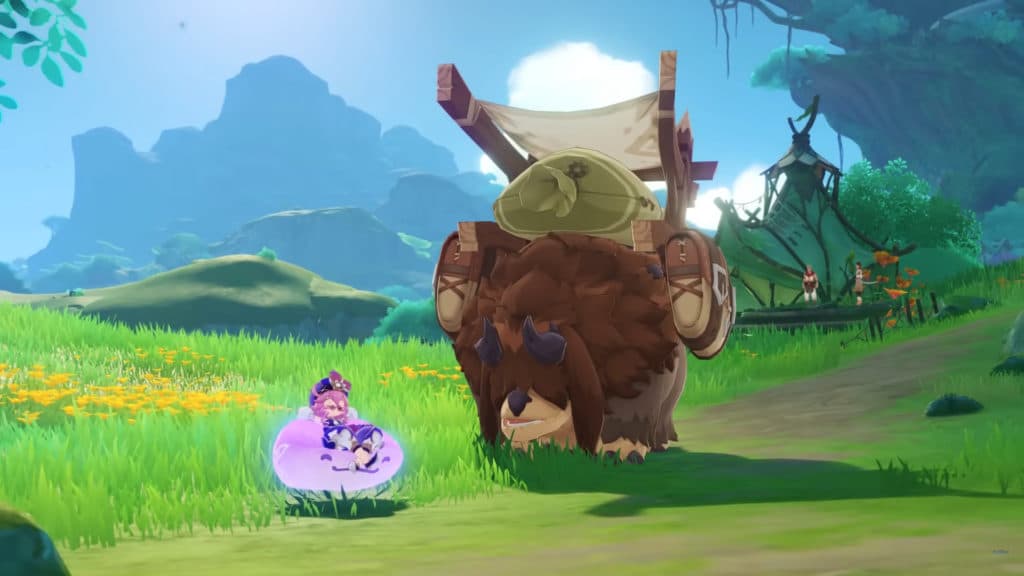 Choosing an artifact set for Dori gets a bit more complicated. This is because she can play a few different roles on your team. You can use her a healer or a support character that can help trigger Electro reactions. Based on which slot you need to fill on your team, the artifact set Dori users will change.
Here is the best artifact sets to use with Dori:
Ocean-Hued Clam: Gives Dori a 15 percent boost to healing and sea-foam will spawn and eventually burst dealing 90 percent of the healing Dori does in damage.
Thundering Fury: This gives Dori a 15 percent boost to her Electo damage. In addition, Electro reactions will have their damage increased by 40 percent.
If you want, you can also swap Ocean-Hued Clam for the Maiden Beloved set. You can also choose to use sets that help boost her energy recharge and health if that works better with your current comp.
The Ocean-Hued Clam set can be obtained from the Slumbering Court Domain on Seirai Island in Inazuma. The Thundering Fury set can be found at the Midsummer Courtyard Domain located around Starsnatch Cliff in Mondstadt.
Team Composition
Since Dori can play the role of Electro support or healer, she can easily fit into many team comps. She can be useful in a Mono Electro Meta Team or be placed into a team that is relying on Electro reactions. The list of characters Dori can work with is pretty long, but the list below provides plenty of good examples.
Some characters she's being paired with are:
Raiden Shogun
Yae Miko
Fischl
Kuki Shinobu
Beidou
Yelan
Mona
Tighnari
Collei
Cyno
Nilou
Diluc
The characters above are just a small sample of who can work with Dori. In all honesty, she is able to slot into a ton of different teams without causing too much of a disruption. Just be sure to check if you want to use her more as a healer or an Electro support. The last thing you want to do is run a team with several different healers.
Farming List
Like every other character in the Genshin universe, Dori needs items to ascend to level 90. Depending on how long you've already spent in Sumeru, you may have some of these items already in your inventory. You will also need the Vajrada Amethyst gems to ascend her.
Here is the list of specialty items that you need to ascend Dori to level 90.
168x Kalpalata Lotus
18x Faded Red Satin
30x Trimmed Red Silk
36x Rich Red Brocade
46x Thunderclap Fruitcore
Kalpalata Lotus can be found around Sumeru, growing on the sides of mountains, and some can be found near Ardavi Valley. Red Satin drops are gotten from defeating Eremite enemies, which are located all over Sumeru. Finally, you can find Thunderclap Fruitcore by defeating the Electro Regisvine located in the Lokapala Jungle in Sumeru.
Talent Farming List
Finally, you need to worry about living up Dori's abilities. This can be done by collecting different items around Sumeru. By leveling her talents, you are increasing the amount of damage she outputs when performing her attacks.
Here is the list of items you need to raise Dori's talents.
9x Teachings of Ingenuity
63x Guide to Ingenuity
114x Philosophies of Ingenuity
18x Faded Red Satin
66x Trimmed Red Silk
93x Rich Red Brocade
18x Bloodjade Branch
3x Crown of Insight
You will be able to obtain Ingenuity books from the Steeple of Ignorance Domain in Sumeru on Tuesday, Friday, and Sunday. The Bloodjade Branch comes from the weekly Azhdaha boss fight in the Nantianmen area of Liyue. This weekly boss can be unlocked by completing the second chapter of Zhonli's story.
Finally, you can obtain Crowns of Insight from leveling the Sacred Sakura Tree or particp[ating in limited-time events. Sadly, this is an incredibly limited resource. You should heavily consider what characters you plan to use on your team before triple-crowning any characters.
Stay tuned to esports.gg for more Genshin Impact coverage.