What you need to know about dropping into Genshin Impact in it's third year.
Genshin Impact is a massive game that you have likely seen everywhere over the course of the last two years. It once again has spiked heavily in popularity thanks to the release of its fourth region, Sumeru. Along with this region, the seventh element, Dendro, was released, which changed the games Meta and how teams were built. With so much going on, you are likely wondering if it's a good time to start. Luckily this Genshin starter guide is here to help.
Is it Worth Starting Genshin Impact in 2022?
To be completely honest, one of the worst times to join was actually during Inazuma drops that occurred last year. This is due to the fact that Inazuma was a closed region, and any characters you pulled were stuck. You'd have to go through around 40 hours of gameplay before you could access Inazuma and start to build those characters correctly.
Luckily, Sumeru isn't a region that is blocked off from the rest of Teyvat, so you can make your way over there almost as soon as you start playing the game. While it is a bit of a walk, you can activate the waypoints along the way to teleport back and forth.
This means that if you pull one of the new characters, like Tighnari, you won't be stuck. You can easily run to Inazuma and farm for his ascension materials and artifact set. The same can't be said for pulling a character like Kazuha, Thoma, or Raiden Shogun, whose materials are locked behind the game's main story.
In general, you will want to avoid Inazuma characters to you unlock the region. Here is a list of characters to avoid pulling for so that you won't be stuck:
Kujou Sara
Kokomi
Kazuha
Raiden Shogun
Kuki Shinobu
Arataki Itto
Ayaka
Ayato
Sayu
Yae Miko
Heizou
Yoimiya
Thoma
Gorou
If one of these character banners is up, then you may want to wait to pull on it, especially if you've just started playing.
On top of being more player-friendly characters in the game now, there is a massive amount of content. This means that you have dozens of hours of content to play through, completely for free.
How Much Time Will I Need To Catch Up in Genshin Impact?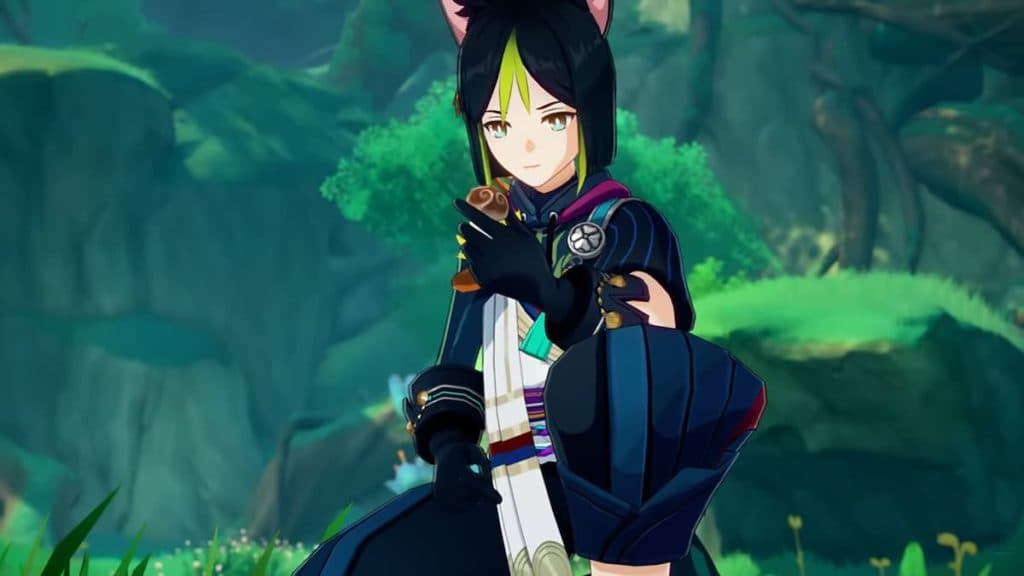 Believe it or not, Genshin Impact is currently the length of a standard JRPG in its story. It will take a little over 50 hours to get to Sumeru if you just focus on story quests. Even if you can't do the story just yet, once you get to Inazuma, you will have access to the whole map. This makes it easy to build characters up leisurely and take your time with the story.
It's not recommended to blaze through the story as it gets complicated quite fast, and it can be easy to get lost.
Should I Buy Primogems When Starting Out?
No, you really shouldn't start throwing money into the game right away. For starters, it can take hundreds of dollars to pull a five-star just using money. Secondly, you don't even know what team you like to run. You should concentrate on earning your first pulls by playing the game, as there are a ton of free Primogems that you can earn.
Here is a list of ways to earn Primogems for free in Genshin Impact:
The story naturally rewards you with Primogems after you complete a segment.
Character Quests, World Quests, and Hang Out Events also give out Primogems at the end.
Opening Chests will grant you Primogems.
You will receive wishes and Primogems from raising your adventurer rank.
You will receive Primogems from completing tasks in your Adventurer Handbook.
On top of this, you can get Primogems from finding Oculi, using the Serenitea Pot, and donating Electro Sigils to the Sacred Sakura Tree.
Who Are The Best Characters to Start With in Genshin Impact?
One of the biggest parts of the game is building your four-person team. While you are given four characters to get you started, you may be wondering which characters are easiest to manage when you in the early hours of the game.
Here is a list of characters that are perfect for newcomers and that you have a possibility of pulling right away:
Jean
Diluc
Mona
Tighnari ( As of 3.1)
Qiqi
Fischl
Xingqiu
Bennett
Rosaria
Yanfei
Collei
Sucrose
All of these characters can be pulled from the Standard Banner, and you will be getting a ton of free Aquaint Fates as you advance. Try to save your Primogems themselves for use on the Character Event Banner.
In addition, try to avoid pulling on the starter banner that guarantees Noelle. While this may seem like a good deal, your wishes are better spent elsewhere. Noelle is a decent character, but you will want to wish on the same banner to build pity. Once you hit 90 pity or 90 wishes, you are guaranteed to get a five-star character or item. In addition to this, every ten pulls you make on the same banner will also grant you a four-star weapon or character.
What About The Limited Time Events and Items in Genshin Impact?
There are a lot of limited-time weapons and story events that have since passed. Sadly, this means that you won't have access to some items, such as the Festering Desire Sword. As of yet, no major events have had a rerun, and once an item is given out in an event, it usually doesn't show back up in the game. There are a few exceptions to this rule, like the Lyre that you can play music on.
If you are intrested in the story of a past major event, then it's best to watch it on a site like YouTube. While the Genshin Impact channel does upload some events scenes, they never really cover what happened. This becomes a bit of a problem as lore is usually dropped in events like as seen in Unreconciled Stars, one of the first major events to take place in Genshin Impact.
Stay tuned to esports.gg for more Genshin Impact coverage.