Are you searching for the Flairship in Fortnite Chapter 3 Season 4? Here is everything you need to know and how to complete the latest quest.
This week marked the beginning of a Fortnite Chapter 3 Season 4 quest where players must emote for five seconds within the Flairship. You might be wondering what the Flairship is and where you can find it to complete the challenge. Today, we'll cover this entire topic to make your journey through Fortnite Season 4 much more straightforward.
Where to find the Flairship in Fortnite
Flairship location
The "Flairship" is a renovated IO Blimp and one of the remnants from Chapter 3 Season 3. After Season 4 launched, you could find the Flairship over the Rave Cave point of interest (POI). However, following Fortnite patch v22.10, the Flairship has moved to a new location. You can find the Flairship beside Grim Gables, as marked on the map above. It's hard to miss, so be on the lookout for a giant, vibrantly colored Blimp in the sky.
How to complete the five-second emote quest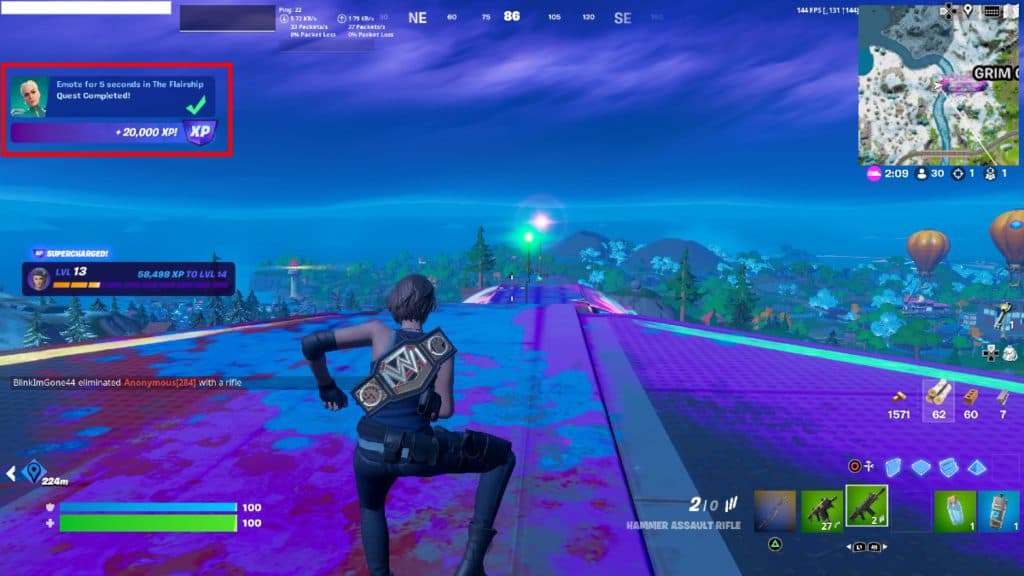 Flairship Quest completed
This challenge has garnered interest due to its simplicity and generous 20K XP payout. As a result, you can expect many players to flock to the Flairship in search of the same goal. Your best bet is to be the first to land on the Flairship. Despite the quest's name, you can be atop the Fortnite Flairship to complete the challenge, as pictured above.
Another option is to wait until the Storm Circle closes. If that's the case in your game, you can endure storm damage and easily emote for five seconds to earn the XP. Either way, it may take a few tries, but eventually, you accomplish the task.
Be sure to check out our other Fortnite Chapter 3 Season 4 guides that we have listed below: