Fortnite's Reboot Rally grants players the chance to bring back friends to the game in exchange for free in-game rewards.
Epic Games has officially launched the Fortnite Reboot Rally, a limited-time event where players can bring back friends who have not played the game recently and unlock free rewards. This event is similar to Fortnite's Refer-A-Friend program. However, the method of acquiring these cosmetic items is different this time. Above all, the goal is for participants to entice their friends to come back to Fortnite.
Here's everything you need to know about the Fortnite Reboot Rally event.
How to reboot a friend in the Fortnite Reboot Rally
Epic defines a qualified participant as someone who has less than two hours played on Fortnite over the last 30 days. To find eligible players, you can open your friend list and look for names with a 'Reboot' symbol. Then, click on the player's name and select "Rally 'Em Back" from the menu. Lastly, a QR code will appear that you can scan, which provides more information about the Fortnite Reboot Rally.

Reboot Rally symbol next to a friend's name
Rally 'Em Back option
Fortnite Reboot Rally QR code
Here is a step-by-step breakdown of Fortnite Reboot Rally:
Open up Fortnite
Navigate to your friend list by clicking the three horizontal lines in the upper-left corner
Locate a friend with the "Reboot Rally" symbol next to their name
Click on that name and select the "Rally 'Em Back" option
Scan the QR code to learn more about the program
Complete challenges to earn points, which translate to the free cosmetic items
How to earn the free rewards
Reboot Rally rewards
There are four point-based quests that you must complete to unlock the Fortnite Reboot Rally items. After gathering a friend to play with, you can track your challenges in-game by selecting the "Quests" menu from the lobby.
For example, you will earn ten points for completing one "Daily Quest" with an eligible friend, 20 points for three Daily Quests, and 30 points for six Daily Quests. Additionally, you will receive 50 points for just inviting a friend via Fortnite Reboot Rally.
Furthermore, you can also complete specific Reboot Rally Quests to earn more points; you can find a list of those below. Once you have earned 200 points, you will unlock the Emoticon, Wrap, Pickaxe, and Glider.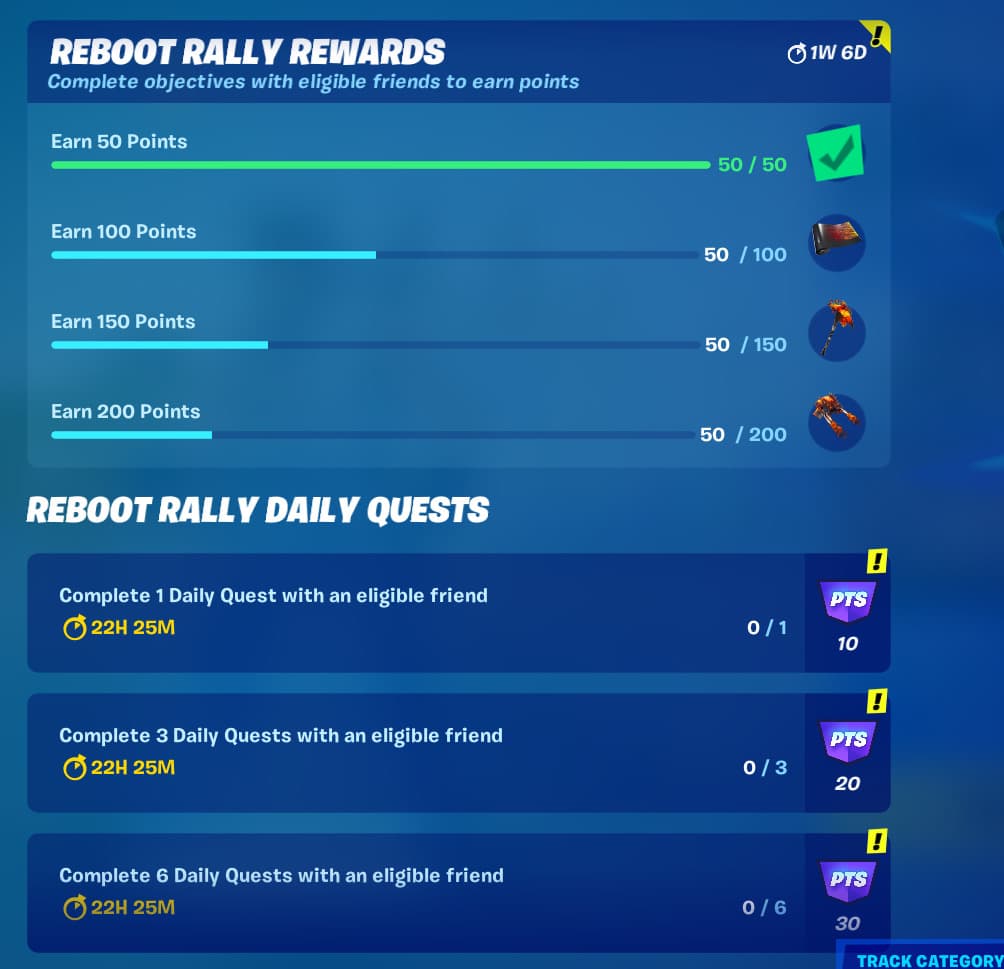 Reboot Rally challenges as they appear in-game
Here is a list of the current Fortnite Reboot Rally Quests available in-game:
Achieve one Daily Quest with an eligible friend – 10 points
Complete three Daily Quests with an eligible friend – 20 points
Complete six Daily Quests with an eligible friend – 30 points
Finish a Battle Royale match – 10 points
Earn experience with a friend in Battle Royale, Zero Build, Team Rumble, or a Creator-made experience – 5 points
Finally, here is a look at the rewards (pictured above) and how many points you will need to unlock them:
50 points: Barb-B-Q Emoticon
100 points: Freshly Forged Wrap
150 points: Red Hot Revenge Pickaxe
200 points: Fiery Descent Glider
The Fortnite Reboot Rally event is live and concludes on October 3, 2022, at 9 AM. Check out Fortnite's blog post for more information and an FAQ regarding this opportunity.