Fortnite Hire a Character Quest in Season 4: How to complete
This guide shows you everything you need to know about hiring a character in the latest Fortnite season.
Fortnite Chapter 4 Season 4 offers many Quests that you can complete for XP bonuses. One of these challenges is for players to locate and hire a different character in Fortnite Season 4. As with every season since Chapter 2 Season 5, Epic Games has brought non-player characters (NPCs) back to the game.
These familiar Fortnite faces spawn around the map and provide various services, including weapons and the ability to hire one as an ally. Today, we'll explain where you can hire characters in Fortnite Season 4 to help you complete this Quest.
Where to hire a character in Fortnite Season 4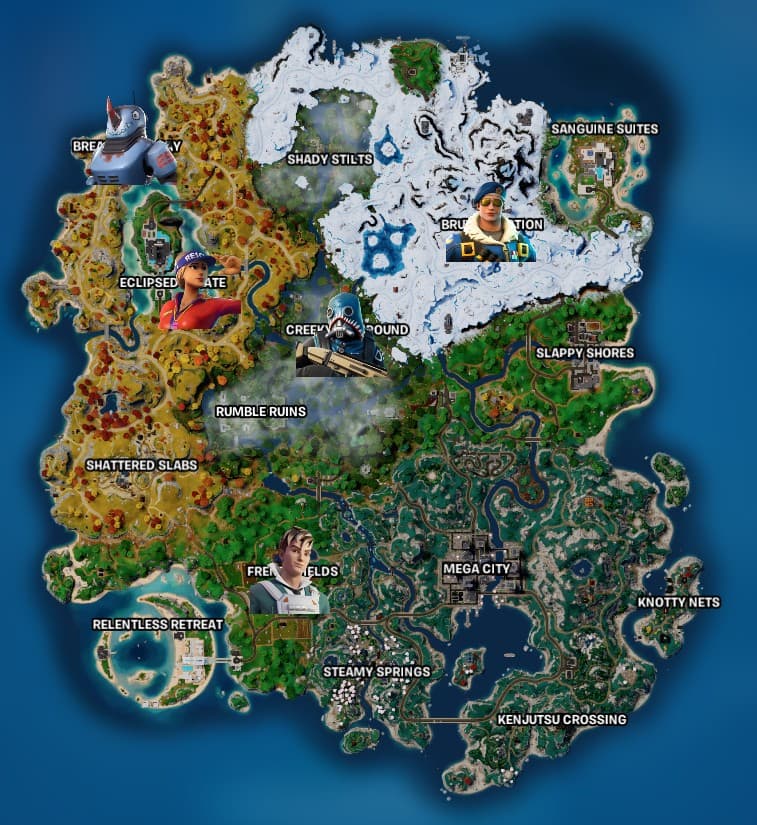 While there are 16 NPCs that you can interact with this season, only five are hireable. As seen in the image above, they each appear in different locations.
Here is a complete list of the characters you can hire and where you can find them on the Fortnite Season 4 map:
Beastmode - Breakwater Bay
Sun Strider - Eclipsed Estate
Nolan Chance - Frenzy Fields
Royale Bomber - Brutal Bastion
Bull Shark - Creeky Compound
Once you locate one, your next step is to hire them for their services, which we will cover in the following section.
How to hire an NPC and complete the Quest
Image Credit: Epic Games
After dropping at one of the five locations above, initiate a dialogue with the NPC. One of the two options will be to hire them–it will cost 200 Gold. You can accomplish the Quest easily if you have that kind of cash.
Be cautious of other players trying to complete the challenge since they will drop at those spots. Repeat the process three times, and the Quest is complete.
It's worth noting that this Quest is Stage 2 of a Questline, so you must first complete the "Eliminate opponents with Shotguns at 15 meters or less" challenge.