In the list of the most popular Dota 2 heroes, Pudge stands out with almost one billion total picks!
Dota 2 is one of the most popular games in the world with 124 playable heroes to choose from. All of them are unique in their ways and serve different purposes. But which hero has been played the most throughout Dota 2's lifetime? Well, it's time for a little butchery.
Pudge is the most-picked hero in Dota 2
Pudge is the most played hero in Dota 2.
(Image via Dota 2)
Pudge is the most-picked hero in Dota 2 by a FAR margin. This hero has almost ONE BILLION total matches played since existence, more accurately, a total of 969 million picks as of October 2023. The fleshy hero is far ahead in terms of popularity with the second-place hero, Phantom Assassin, barely catching up at 686 million picks.
In the past ten years, Dota 2 has accumulated billions of matches and a big portion of them featured the incredibly popular Pudge. This versatile hero can be played in all roles and interestingly holds a positive 50.99% win rate.
Check out the striking difference in this list of the ten most-picked heroes in Dota 2.
The 10 most-picked heroes in Dota 2
| | | |
| --- | --- | --- |
| Rank | Hero | Total Matches Played |
| 1. | Pudge | 969 million |
| 2. | Phantom Assassin | 686 million |
| 3. | Sniper | 670 million |
| 4. | Invoker | 638 million |
| 5. | Juggernaut | 612 million |
| 6. | Lion | 504 million |
| 7. | Slark | 504 million |
| 8. | Legion Commander | 503 million |
| 9. | Windranger | 490 million |
| 10. | Axe | 485 million |
(Source: DotaBuff)
Why is Pudge so popular?
One look at Pudge and you already know his appeal. The hero has a strong design and concept - being a behemoth of rotten flesh that can hook and dismember opponents. Not only does he have a unique (and nauseating) design, but his abilities are satisfying to play.
Pudge is not your average warrior and that already makes him a hot choice across the hundreds of Dota 2 heroes. But that's not all of why Pudge is so popular.
Back in The International 2013, Danil "Dendi" Ishutin popularized the Pudge with the Fountain Hook phenomenon. This is documented in The International Archives where NAVI clashed against Tongfu. The Ukrainian team had pulled off an undiscovered play using an in-game bug.
The Fountain Hook happens when Dendi on his Pudge Hooks an opponent and time it with Clement "Puppey" Ivanov's Chen's Test of Faith. The Test of Faith (no longer a part of the game) would teleport the selected ally back to base. With precise timing, the hooked opponent will be dragged across the map into the base - suffering an inevitable death.
The Fountain Hook was very controversial but it is also one of the most historical plays in Dota 2. It led to NAVI winning the game, though they would eventually lose to then-champions, Alliance, in the grand finals.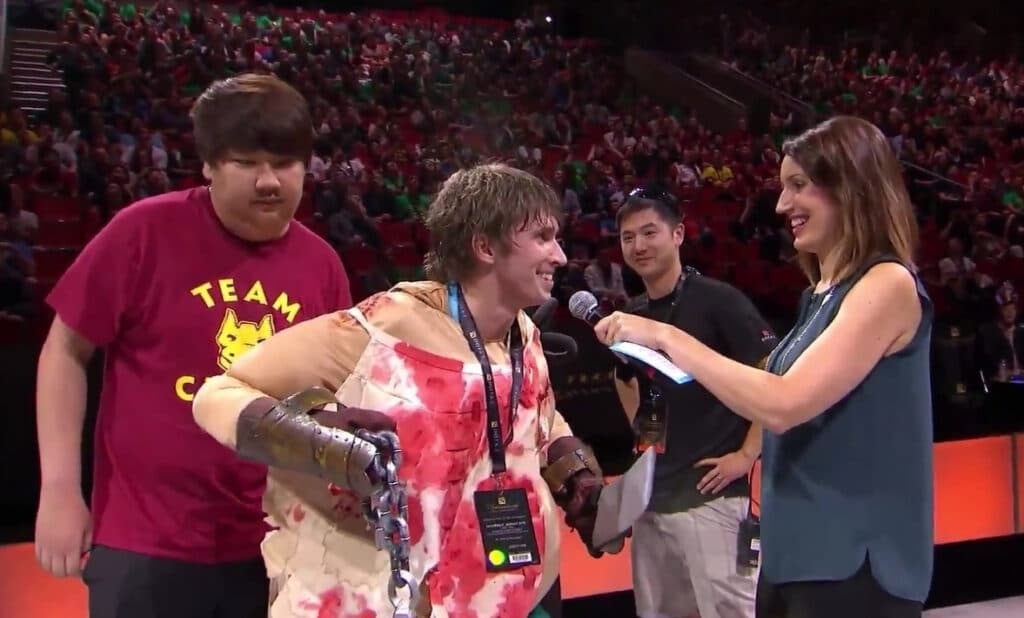 Dendi cosplaying as Pudge during the TI5 All-star match.
Following the Fountain Hook incident, you can find players all over the world trying to mimic Dendi's successful hooks. Until today, pub players would constantly make Dendi Pudge references when playing against the rotten hero.