Some easy steps to go through to fix lag issues on your computer.
Counter-Strike 2 is officially out and there are almost 1.4 million players just within 24 hours of its release. However, not everyone has had the optimal smooth gameplay experience. It depends on your computer system specifications and in-game settings. While we can't do anything about your specifications (other than you investing more money), here are a few tips to fix the Stuttering issue in CS2.
How to fix Stuttering in CS2?
Stuttering is when your CS2 gameplay does not feel smooth and there are constant disconnects. The disconnects and stuttering make it incredibly jarring to play CS2 and ultimately it spoils the experience. Quite often, the issue is fixable by small tweaks and changes on the player side. We have listed a few examples in this article for you to check off your to-do list.
Is CS2 down?
Well, there is a small change the issue might be due to something other than your system or network. If everyone else on the server (or your team) is also facing stuttering issues, then it is likely a CS2 server issue. You can check whether CS2 servers are down or not by checking here.
Check your Internet connection
Check your internet connection by going to Ookla speed test. If your Internet connection speed is not up to par, then you should call your ISP.
We recommend using a LAN cable connection instead of playing on Wifi to ensure a stable connection. Wired connections also provide significantly higher speeds on a consistent basis. If you might want to consider upgrading your router.
Change your Video and Graphics settings
One of the first things to go through, if CS2 is not down, is to tweak your video and Graphics settings. CS:GO players will know lowering the video settings and graphics quality can improve your FPS and reduce stuttering issues.
Global Shadow Quality: Low or Very Low
Multisampling Anti-Aliasing Mode­: None
Shader Detail: Low
Motion Blur: Disable
FXAA Anti-Aliasing: Disable
Lowering your graphics settings will ensure there's less strain on your system and provide for a smoother experience.
Update Graphics Drivers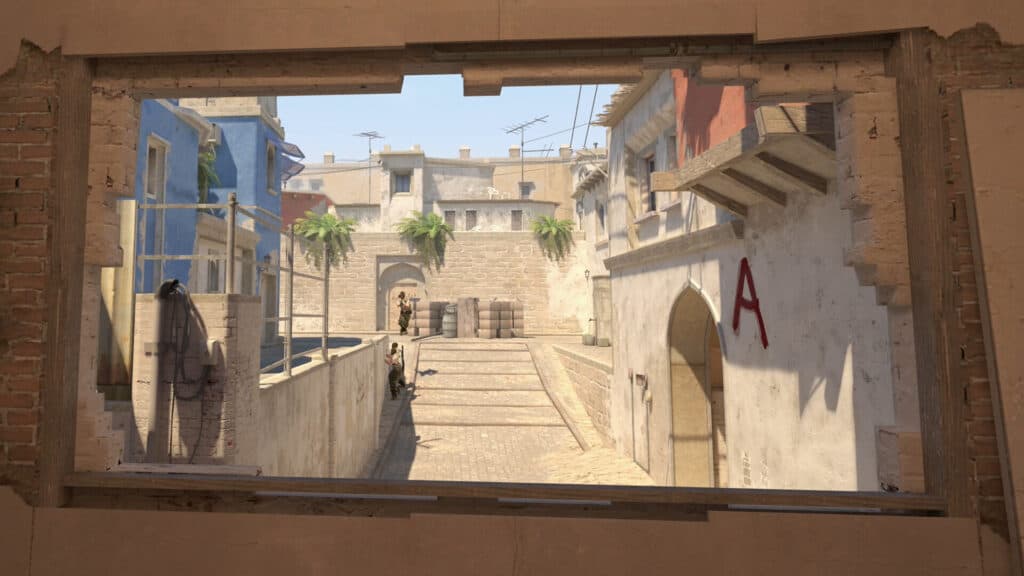 A screenshot of Mirage mid from the CT Window perspective. (Image via Valve Corporation)
Open the Task Tray and click on the Nvidia Control Panel. Check the top right corner to see if your Nvidia graphics driver is in need of an update. If it shows an option to download the update, then please click on the Update button.
After you install the update, you will need to restart the computer. And then launch CS2 and check if the stuttering issues still persist.
CS2 Beta Depot Update
You can also fix stuttering issues if you play at high FPS on Nvidia graphics cards. Go to the Steam BETA tab in your library and then click on the CS2 beta Depot.
Right-click on CS2
Click on Properties
Choose the desired Beta Depot from the drop-down menu
After clicking close wait for the download and then play
Windowed Mode
Change your CS2 to run on Fullscreen mode instead of Windows. Many times, the game can run on Windows mode without you knowing. It's always best to actually check the settings and see if the game is running on Windows mode or Fullscreen mode.
If it is running on Windows, change it to Fullscreen mode. Doing this solves several problems, including FPS problems and stuttering issues in CS2.
Hopefully, going through these steps should solve your stuttering issue in CS2. Remember to launch the game and check after going through each step. With improved graphics, the new game is a treat to play on. Valve has not yet released all features and maps just yet, so keep an eye out for more updates as the game gets older.