Best loadout for Sakin MG38 in MW2 Warzone 2
The Sakin MG38 is one of the strongest LMGs in Warzone 2.
There are a whole heap of options when it comes to Warzone 2 and MW2. The Sakin MG38 loadout is one of the strongest of those in Season 3.
The Sakin MG38 has a strong resemblance to the Bruen LMG that was a huge part of the Warzone 1 lifecycle.
LMGs have always been a solid option in Warzone 2 and MW2. They offer powerful shots and large magazines to allow players to take out whole teams at once.
The biggest drawback of an LMG is usually the slower speed at which you run. That, coupled with the fact that most of them take an age to reload because of the magazine sizes, means that a good balance has to be struck.
How to unlock the Sakin MG38
The Sakin MG38 is one of the easiest weapons to unlock in MW2 and Warzone 2. The weapon becomes available when players reach Military Rank 4. It unlocks at the same time as custom classes and the ability to edit weapons.
That makes it the first LMG available in MW2 after starting the game. It is a powerful one to get started with for new players.
---
---
Best Sakin MG38 loadout for Warzone 2
In Warzone, the Sakin MG38 is an incredibly powerful option. It has the capability to take out multiple players per magazine, just like its Bruen predecessor. The Sakin comes kitted out as standard with a 100-round magazine.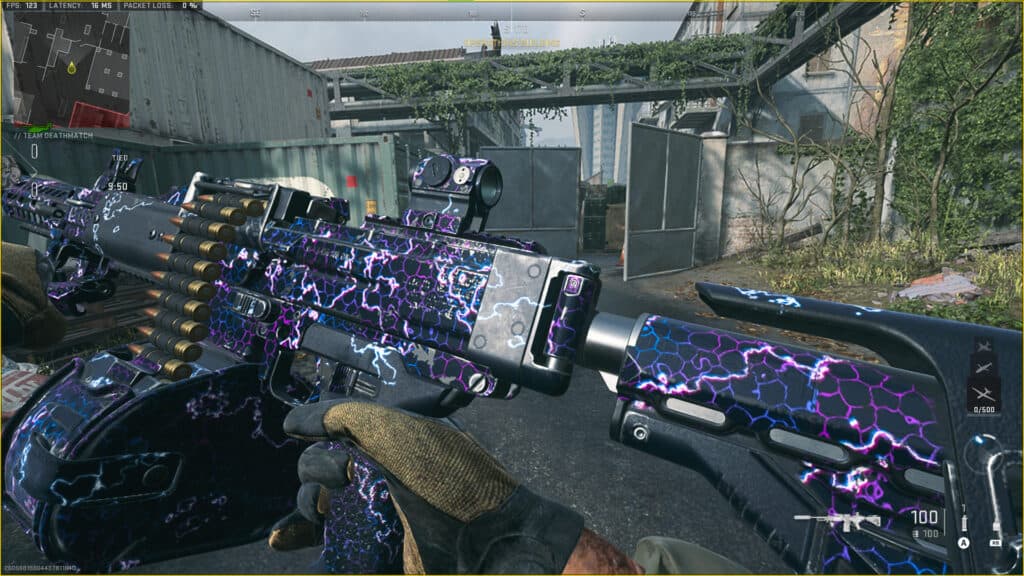 The attachments that you use for the Sakin in Warzone should aim to keep a balance between eliminating the recoil on the gun and being able to move fairly quickly.
A secondary weapon will always allow some faster movement when using a gun like the Sakin MG38 but having some mobility in it, to begin with, is really useful.
The best Sakin M38 loadout for Warzone 2.
Attachments for the best Sakin MG38 loadout in Warzone 2:
Muzzle: ZLR Talon 5
Underbarrel: Cronen WL55
Rear Grip: Stip-40 Grip
Barrel: Ruen Silver Series Barrel
Optic: Aim Op-V4
Best Sakin MG38 loadout for MW2 multiplayer
In multiplayer, there is a much lesser focus on being able to kill opponents at range. Way more importance is placed on being able to move around quickly. The much smaller maps need more quick thinking from players and being able to use your weapon at speed can be incredibly valuable.
If you're running around Shipment, you may want to slow down your playstyle with the Sakin. Using an LMG in such a small space will always be difficult. Holding head glitches and pre-aims is the way to go with this.
Utilising it correctly can make the Sakin MG38 a devastating force. The 100-round mag, in theory, can take out 30 opponents before reloading. That obviously, is in a perfect world with all headshots and not missing once, but it does put the power of the weapon in context.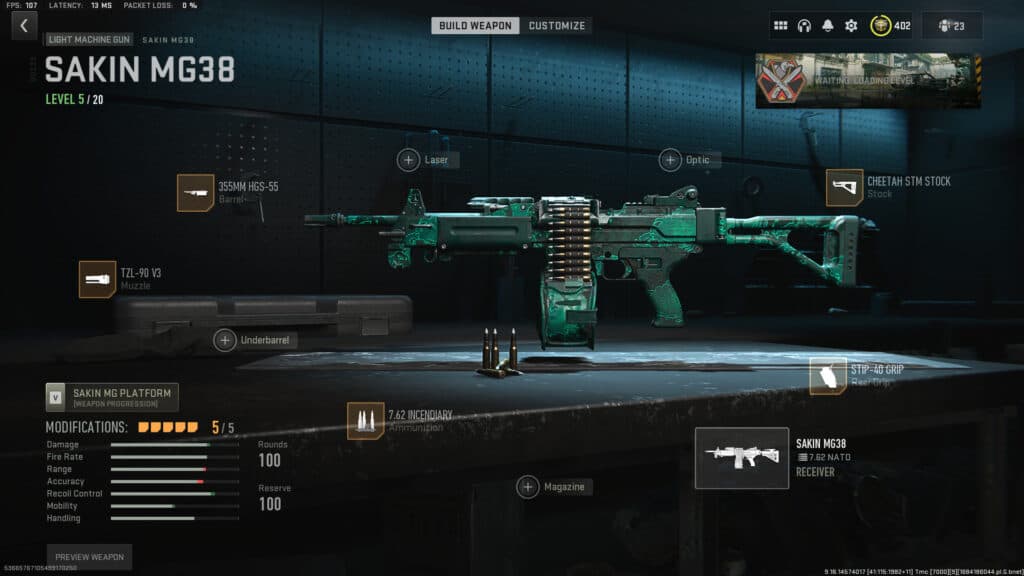 Attachments for the best Sakin MG38 loadout in MW2 multiplayer:
Muzzle: TZL-90 V3
Barrel: 355mm HGS-55
Ammunition: 7.62 Incendiary
Rear Grip: Stip-40 Grip
Stock: Cheetah STM Stock
If you have trouble with your aim, then replace the rear grip with an optic. The iron sights on the weapon are quite clean though and should be pretty easy to use.