A one-stop guide to Mirage, the underwhelming yet comical Apex Legends character. We run through how to make the most of the joker himself.
Apex Legends' Mirage, is the king of one-liners and a top-tier sh-t talker, but he's having a bit of an identity crisis (and not because of the clones).
Since Mirage made his debut in Apex Legends, the legend has been a bit underwhelming. His kit has never been good enough to keep up with the meta. But that means doing well with Mirage is quite an achievement in itself!
Mirage is currently considered the lowest on the tier list, chilling alone on the bottom. But that didn't stop abusing_r2 hitting 200,000 kills on the Mirage, and Reddit even recently came together to try to work out how to fix the legend. Mirage is a really fun legend to play. And with enough practice, there are also a lot of fun tactics and tricks you can implement to keep the enemy on their toes.
Mirage Apex Legends Playstyle
Mirage is a fun legend when he's the second person to enter the fight. He unfortunately lacks a initiation tool but once he's in, that's where he shines. With the entry fragger distracting the team, Mirage has tons of opportunities to play aggressive by flanking and bamboozling the opponents as much as possible.
Once the fight has started, it's time to get a bit crazy. It's all about playing around sight lines and fooling people with illusions and distractions. Sending off decoy's around cover to fool opponents or using your ultimate in a tight area to get a cheeky angle on your enemy are only a few examples to the tom foolery you can get up to.
Mirage Apex Legends Abilities
Now You See Me (Passive)
Now You See Me allows Mirage to automatically cloak while he is reviving teammates and using Respawn Beacons. This is a neat little trick that makes it easier to respawn teammates in tough situations. It not only keeps you hidden but your downed squadmate as well.
This allows you to make riskier plays for downed teammates, especially if the enemy is distracted (by a clone or otherwise). The cloak also moves you up the Gold backpack priority list, as you'll be doing most of the reviving with the cloak.
Additionally, the passive also turns Mirage himself invisible for five seconds if he is knocked down. And a decoy will take his place. But this part of the passive only really comes in handy if you have a gold knockdown shield handy.
And try not to use your knockdown shield! This will make you visible again, defeating an aspect of the passive. Start backing away into a safe area instead, only using your shield when you become visible once again and are in a vulnerable area.
Pysch Out (Tactical)
This is what Mirage is all about — sending out a holographic decoy.
When you first send out your decoy, it will run in a straight line ahead of you. The decoy will then stop if it hits an object or wall — or it will stop in the spot you targeted.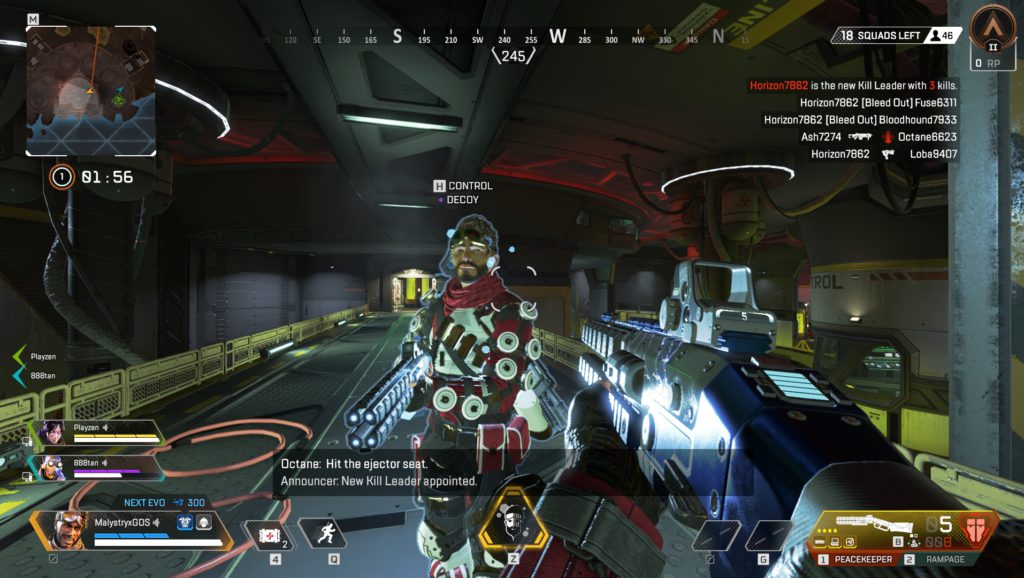 Psych Out also allows you to control the decoy by using the "alternate interact" button, causing the decoy to copy your movements. This makes the decoy appear a bit more convincing, and allows you to position the decoy in certain ways.
Perhaps the most useful part of Pysch Out is that when it's eliminated by an enemy, their position is revealed by an icon. This is really important information for both you and your team so always use Psych Out when you're scouting out a new area.
In fact, Psych Out can — and should — be used generously. You can even use this ability while diving down at the start of a match. Activating your tactical in this situation will send out a holographic decoy of your entire team in the specified direction. You're gonna be seeing a lot of Mirage (and his team).
Here's a crazy trick if you've had enough practice to pull it off: Trick your opponent into thinking YOU'RE the decoy by running in a straight line. Behaving like the decoy will have the enemy quite confused, buying your team or you time to pull off something crazy.
Life Of the Party (Ultimate)
Unfortunately, this ultimate is where Mirage starts to show some of his glaring weaknesses. Still, Life Of the Party can be quite entertaining in the right hands.
Life Of the Party deploys a squad of 5 decoys in a circle around Mirage. After vanishing for a second, the 5 decoys will spawn in and copy all of Mirage's movements. And with the invisibility, enemies will have quite a hard time being able to spot who is the real enemy. However, the Decoys don't have a weapon, so it'll just be you firing at the enemy, which unfortunately is a dead giveaway.
Life Of the Party is a lot of fun. There's no denying that. But it hasn't proven to be very effective in the current meta. It's sort of easy to spot who the real Mirage is and doesn't really offer a lot of advantages. But there are some interesting ways you can use Life Of the Party to get the upper hand unexpectedly:
Stuck in a tight spot and need to reload? Use your ultimate to confuse your enemy while you get prepared to gun them down. Just make sure to turn away from the enemy first to create further confusion.
Do it when an enemy wouldn't expect it, like mid-fight or mid-chase. Even if they are confused for a second, you can use that second to gain the upperhand.
A personal favorite, activate it mid fight and run in circles or just stop moving at all, it'll really mess with them.
Afterwards if you survive a fight, you can use your ult to emote on top of an enemy's death box 6 times.
Best Teammates for Mirage in Apex Legends
What Mirage lacks in mobility he makes up for in personality. So he can convince almost anyone to be on his team. Here are the best legends to pair with Mirage to get the party started.
Octane: If Mirage ever gets in a tough spot after an aggressive encounter goes wrong, use Octane's jump pad to get the heck out of there.
Pathfinder: If Mirage ever gets in a tough spot after an aggressive encounter goes wrong, use Pathfinder's zipline to get the heck out of there. Didn't I… Nevermind.
Horizon: If Mirage ever gets in a tough spot after… You get it.