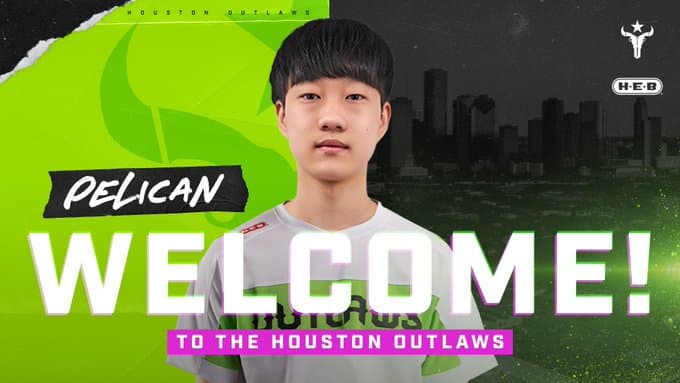 Pelican, Rookie des Jahres, wechselt zu den Houston Outlaws
Der 19-jährige Rookie des Jahres schließt sich Houston an, während wir uns auf Overwatch 2 zubewegen.
Die Houston Outlaws haben bekannt gegeben, dass sie den Rookie des Jahres 2021, Pelican, von den Atlanta Reigns übernommen haben, vorbehaltlich der Zustimmung der Liga.  
Die Outlaws und die Reigns haben sich auf ein Buyout geeinigt, um Pelicans Vertrag an die Outlaws zu übertragen bzw. zu tauschen. Andere Spieler waren an der Transaktion nicht beteiligt.
Houston Outlaws
Als einer der vielversprechendsten Neulinge in der Overwatch League hat Pelican den Outlaws viel zu bieten. Der 19-Jährige ist ein DPS-Spieler, der für sein Echo-Gameplay bekannt ist. Er verfügt jedoch über eine breite Palette an Charakteren, mit denen er sich wohlfühlt, was ihn in der Overwatch League von unschätzbarem Wert macht. Die Vielfalt und die Flexibilität bei der Charakterauswahl machen Pelican zu einer guten Wahl für die Houston Outlaws. Die Saison 2022 wird auf einer Overwatch 2-Version stattfinden, und daher werden flexible Spieler noch wertvoller sein.
Pelican: Entscheidend für die Leistung von Atlanta Reign im Jahr 2021
Pelican spielte eine entscheidende Rolle bei den Leistungen des Reigns in der Overwatch League. Der Rookie half dem Reign, sich mehrfach für Hawaii zu qualifizieren, und beeindruckte auch in den Turnieren. Seine Entschlossenheit, sich zu messen und das Spiel zu spielen, ist in der Liga unübertroffen. Obwohl er an einer kollabierten Lunge litt, spielte er weiterhin für das Atlanta Reign im Countdown Cup und in den Overwatch League Playoffs. Atlanta Reign hatte in den Playoffs einen brillanten Lauf in der unteren Gruppe und erreichte das große Finale. Im großen Finale verloren sie 0:4 gegen Shanghai Dragons.
Pelican kam von O2 Blast, einer südkoreanischen Organisation, zu Atlanta Reign, wo er sich bei den Korean Contenders einen Namen gemacht hat. Die Positionierung und die Fähigkeiten des Spielers waren einer der Gründe für das Interesse von Atlanta Reign an ihm.
Der Spieler schließt sich DPS Dante "Danteh" Cruz, Off-Tank Shin "Piggy" Min-jun sowie Flex Jacob "JAKE" Lyon an. Die Saison 2022 der Overwatch League wird auf Overwatch 2 in einem 5v5-Format gespielt. Atlanta Reign hat in Bezug auf sein Roster eine andere Richtung eingeschlagen, aber das bedeutet nur ein stärkeres Lineup für die Houston Outlaws.
Rohan
Started esports with Dota, moved to CS, then OW, back to Dota 2, and now a bit of Valorant. I love city-building games, and have spent hours in Cities: Skylines only to have the traffic defeat me. Currently on a reading spree - the aim is to read 150 books in 2023. Can I do it? Would you?