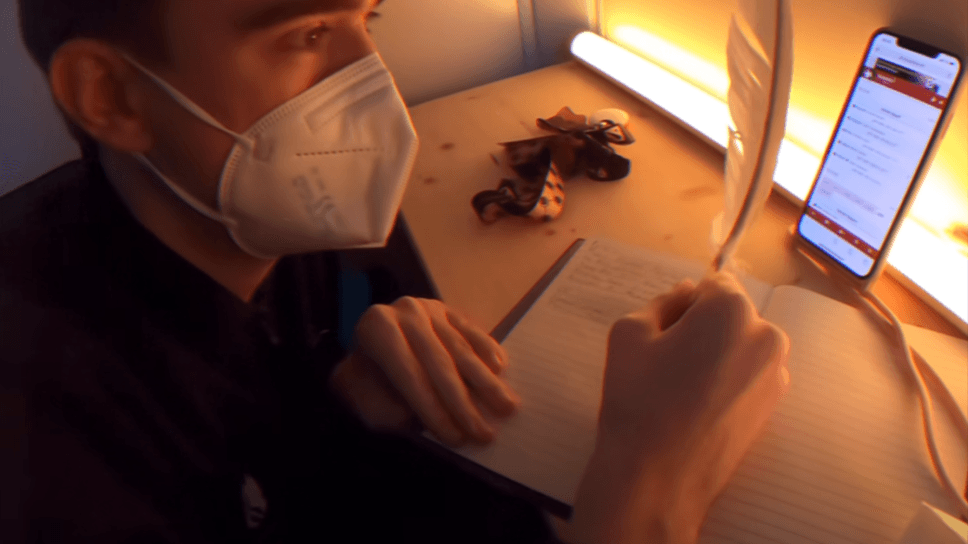 Team Spirit's coach, Silent: "Death Note is our strongest strategy."
Team Spirit are the crowned champions of TI10 and they have relished an incredible underdog story. Here are their thoughts after TI10 victory.
The International 10 concluded and we now have the new kings of Dota 2, Team Spirit. The young underdogs completed their Cinderella run in a beautiful BO5 Grand Finals, defeating the Chinese beasts, PSG.LGD. Team Spirit shared on its social media a clip of its players, coach, and manager expressing their thoughts after the win.
Team Spirit relishes their triumph at TI10
Mira: "Today wasn't really easy, but we did it."
Miroslaw "Mira" Kolpakov is the position four of Team Spirit. Seemingly a calm and collected person, he made a great impact on the team with heroes such as Lion, Dark Willow, and Weaver.
I feel amazing, maybe perfect. I guess I can say that today was a good day. We won the Final. It was harder to play against Winstrike I would say. Today wasn't really easy, but we did it.
Miroslaw "Mira" Kolpakov
Collapse is mindblown after Team Spirit's wild run
Magomed "Collapse" Khalilov is the boy who made waves throughout the community with his phenomenal plays in the offlane role. He has quickly become one of the favorite Magnus and Mars players of all time and the 19-year-old was definitely mindblown by their victory.
Can I curse? I'm out of my fucking mind. Fuck.
Magomed "Collapse" Khalilov
Youngest player at TI10 wishes to return
Illya "Yatoro" Mulyarchuk is the youngest participant of TI10 at 18 years old and yet, he brought an outstanding performance to the stage. He made history by securing 3 Rampages on TI stage, the highest record for a single player. Previously, only 4 Rampages have been done on TI's main stage and Yatoro just single-handedly added 3 more to the pool. In addition, he flexed his vast hero pool on The International stage, playing 14 different heroes across 20 Main Event matches.
To sum it up, Yatoro is no doubt a prodigy in Dota 2. After the victory, he stated his wish to return again next year.
What can I say? We won TI 2021. Hope to come back here next year.
Illya "Yatoro" Mulyarchuk
Silent: "Death note is our strongest strategy."
Airat "Silent" Gaziev is Team Spirit's coach and a Dota 2 veteran. He had amazing achievements throughout his career as a player and now, as a coach. At a time after December 2015, Silent was number one in the world, in terms of "number of competitive games" and the "number of wins in competitive games".
In the Group Stage of TI10, Team Spirit did not have a good start to its journey. It dropped three series against Team Secret, PSG.LGD, and Vici Gaming. However, the squad recovered and accumulated enough points to secure an Upper Bracket slot. Silent explained Team Spirit's rocky start to the final victory.
I believed that we could do a very good run with our preparation. We were some kind of "clan war champions" with our insane win rate at practice games. We thought we could get it rolling from the start, but we didn't have the best couple of games. We were nervous and all this stuff, but we managed to deal with it. Ruslana (Manager) and Dima (Dota 2 Manager) did a very good job, their support was insane.
Airat "Silent" Gaziev
The camerawoman asked, "Did Death Note help you win?"
Death Note is a popular Japanese manga series that centers its plot around a notebook. In the story, the notebook is called Death Note and any person whose name is written in it will, as a result, die. In its previous vlog, we saw Team Spirit using the Death Note to "assassinate" some TI players and according to Silent, it somehow worked out.
Yeah, exactly. Death Note is our strongest strategy.
Airat "Silent" Gaziev
Positive visualization might be a key factor according to Miposhka
Yaroslav "Miposhka" Naidenov, captain and position 5 of Team Spirit joined in the conversation while enjoying a burger meal. He pointed out that his team did not draft Sand King during TI10 despite them having a great win rate on him in practice matches.
"We won 9 out of 10 matches (with Sand King). We only lost once with Sand King Mid. Collapse has a 100% win rate."
Team Spirit's captain then talked about what could've influenced his huge victory at TI10.
Before I go to bed, I always imagined how I win, experience our victory, how I leave the booth, how I go to the Aegis, how I lift him. Perhaps it really worked out. Positive visualization. I even imagined phrases like Team Spirit the TI Champions.
Yaroslav "Miposhka" Naidenov
Dmitry Belov, Dota 2 Manager of Team Spirit: "We got a bit lucky and we won it all."
Alexander "TORONTOTOKYO" Khertek made a name for himself as an aggressive and powerful midlaner. After his victory, he was seen enjoying his meal and he said no less than two words. "I'm tired." said the midlaner.
"You should feel sorry for Dima (Dmitry), he cheered his heart out this game." the camerawoman said.
I lost my voice a bit. The True Sight won't be the most cheerful one guys. Well, judging by the result we tried our best because we are in True Sight. Thank you for your support, we got a bit lucky and we won it all.
Dmitry Belov
A beautiful underdog story closes the championship and the CIS team walks away from the tournament with a massive prize-winning of $18 Million USD. They have proved themselves in the most breathtaking journey at The International 10. We can only anticipate more amazing Dota from Team Spirit in the future.