Undefeated records on the line in Week 3 ESC Preview
Week 2 of the Esports Collegiate Conference is here! Here's a preview of the weekly action and what to expect in terms of streamed content.
The Week 3 action resumes from September 19-21 for the Esports Collegiate Conference (ESC) 2023-2024 season. VALORANT and Rocket League are ready to rock and roll after two amazing weeks of competition.
We've prepared the updated standings and a few storylines worth following heading into the this weeks wild matches
ESC Week 3 preview
Sadly this week there will be no matches on the official ESC Twitch account. However you will be able to find all the games on each schools individual Twitch accounts.
ESC VALORANT standings after Week 2 (Image via eFuse)
ESC Week 3 Preview: VALORANT
This week is the first week this season that will have VALORANT on both Tuesday and Thursday. This week brings a change to the map pool with Breeze and Sunset being added into the rotation.
With the map pool going from five to seven maps, keep your eye out for some new comps and map picks heading into this week. We will see a lot of change in the rankings heading into Week 4 with some teams playing two matches this week. Let's take a look at some key matchups to keep your eye on in Week 3.
University of Toledo versus Northern Illinois University (VALORANT): Sept. 19 at 8:00 p.m. EST*
The Toledo Rockets are aiming high this year after an astounding 2-0 win in Week 2 against Ohio University. Sentinel player Tino locked down the win for the Rockets across both maps with major help from DiddyJr2's 29-kill performance on Haven in map two.
These returning players for Toledo are ready to prove their worth in the conference after a 5-8 regular season last year and missing out on the playoffs. However, this week they face off against an undefeated Northern Illinois roster.
Northern Illinois, after bowing out in quarterfinals in last years playoffs, has started the season strong 2-0. Led by returning player Jacob "Agua" Cummins, the Huskies look good going into Week 3 of the season.
Wins over Bowling Green and Northern Kentucky meant they look to add a third against Toledo. Keep an eye out for duelist player cjr and sentinel player soupy as they will have to match up against DiddyJr2 and Tino on the other side.
ESC VALORANT Week 3 Round 3 schedule (Image via eFuse)
Kent State University versus Northeastern University (VALORANT): Sept. 19 at 8:30 p.m. EST*
Our second Tuesday match to highlight is the Kent State versus Northeastern matchup. Kent State has started off strong with a sweep over Central Michigan in Week 2 and look to continue their success from last year.
The Golden Flashes had an 8-5 record last year and had their season abruptly ended by Northeastern in the quarterfinals. Revenge is on the table for this Kent State team while they also look to continue their undefeated record. Keep an eye out for LiteralChad and shaK who stood out in their week two matchup against Central Michigan.
For the Northeastern Huskies they are coming off an exciting 2-1 win on mainstream against last years champions, University at Buffalo. Duelist player for the Huskies, Darm, put on a masterclass performance in the series especially in their two map wins with 28 and 27 kills.
Followed up by great team play from the rest of the team, the Huskies look formidable heading into the rest of the season. Kent State will not back down from this fight. With an undefeated record on the line for Kent State and Northeastern with the ability to start the season 3-1, everyone is all in. Will the Golden Flashes continue their season undefeated or are the Huskies able to put a stop to it just like last years quarterfinal matchup?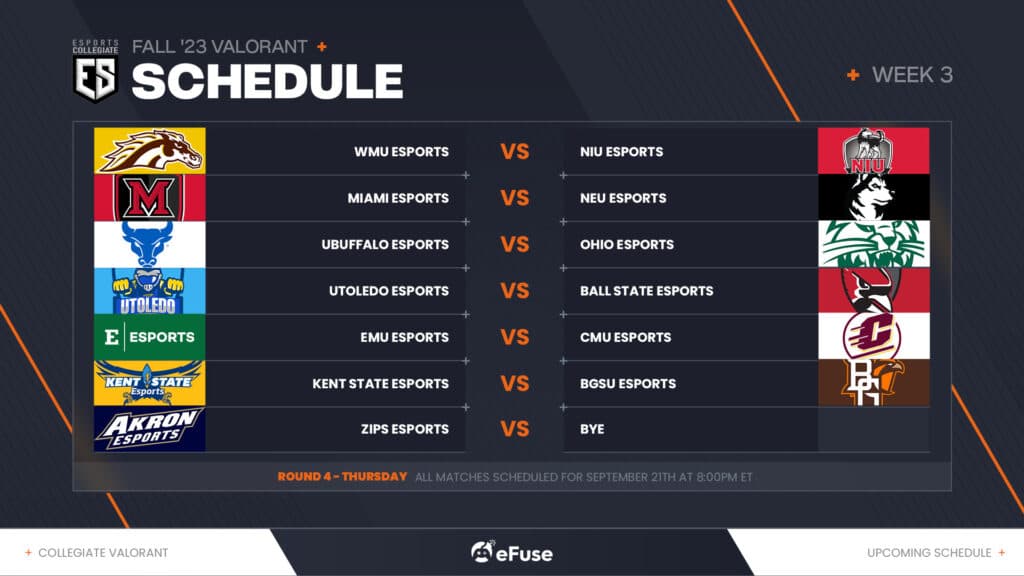 ESC VALORANT Week 3 Round 4 schedule (Image via eFuse)
ESC Week 3 Preview: Rocket League
With four games through the season already heading into Week 3, only nine games remain for each team. Massive upsets last week and some sweeping shutouts have left three undefeated teams at the top of the standings.
More upsets are still on the table for any team to take. It is time to see what teams start to drive away in the standings this week and the teams that may be left behind.
ESC Rocket League standings after Week 2 (Image via eFuse)
Ball State University versus Northeastern University (Rocket League): Sept. 20 at 8 p.m. EST*
The Ball State Cardinals took down the mighty Akron Zips in an amazing 3-1 series win. With new Rocket League coach 2Fast coming from the University of North Texas, Ball State looks to have figured out a game plan against one of the historically best teams in all of collegiate Rocket League.
This ended Akron's undefeated run from last year and was the first time Ball State has ever won against the Zips in Rocket League. Guh, oath, and wovah look to continue their aim for an undefeated season and start a new dynasty in the ESC. However, the Cardinals do not receive a break after a tough matchup against Akron as they now must find a game plan for the undefeated Northeastern Huskies.
Northeastern is coming off a close game five win against Western Michigan last week and a 3-0 sweep against Eastern Michigan. Angebro, shotguy, and yellow look to continue their dominance so far this season.
With even goal participation in a large amount of their matches each member needs to continue to show up and perform. The last time these two teams met in ESC last season Ball State took the win 3-0 and are looking to do it again.
ESC Rocket League Week 3 Round 5 schedule (Image via eFuse)
Northern Kentucky University versus Central Michigan University (Rocket League): Sept. 20 at 8 p.m. EST*
The Northern Kentucky Norse match up against the Central Michigan Chippewas this week in Rocket League. The Norse have had some close losses that have put them at a record of (1-3) to start the season.
They look to change their momentum up against Central Michigan and Miami University this week. With Toastie taking a break to focus on school the team has struggled to find some its fire power that it had heading into the postseason last year. Rickles and Pig return to the roster and are very capable players to turn this season around with newcomer Jayeden.
On the other side of the pitch, Central Michigan would like to continue putting up good performances as they have mounted themselves a (2-2) record so far.
The Chippewas already have outdone their last season record of (1-12). The team of Baku!, ThePolmantrio, and Shisaaccc took wins against Bowling Green and Ohio. Central Michigan has a chance to pull away from the pack this week in their matches against Northern Kentucky and Northeastern. This also could bring hopes for playoffs and a complete 180 from last season.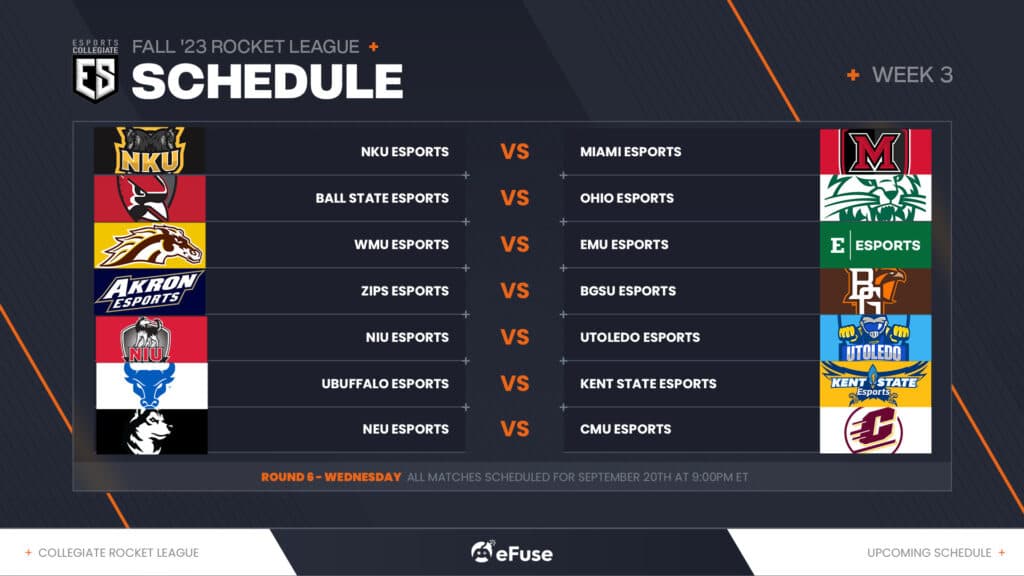 ESC Rocket League Week 3 Round 6 schedule (Image via eFuse)
Stay tuned to esports.gg for more ESC esports news and updates.
*Match times are subject to change.