Trey509 discusses his origin story, why 100 Thieves' Nadeshot is a huge role model for him and reflects on his run in collegiate Fortnite thus far.
Welcome back to another instalment in the weekly series aimed at highlighting talented players in the collegiate Fortnite scene. This week's featured player is a fellow Lakers fan and one of the best collegiate Fortnite players in the West Trey509.
When he's not putting in the hours at school or competing, he's busy studying the likes of Nadeshot and Shroud and working towards his ultimate goal of owning a professional esports team.
He's considered to be one of the best in the country and possibly the best in the West which also includes a second place finish in the first ever Fortnite Collegiate Cup.
"I've always been a gamer, I started playing Minecraft  two or three years after it came out. I used to play the demo of Call of Duty: Black Ops when it came out on the PS3 and I got hooked.
"I also played some stuff on the Nintendo DS like Pokemon Soul SIlver and a couple of other Pokemon games. I never beat the game but it was a lot of fun for me," added Trey.
I remember trying to figure things out in many games when I was a kid so I get where he's coming from, it's hard when you have no idea what you're doing but his gaming journey so far has included games from many different genres.
Trey has a consistent schedule when it comes to content and competing and this is from where he does it all.
"Everybody calls me Trey, not even my parents call me by my real name. I'm called Trey because my real name is Mizrrahim Morales III and I'm the third in my family and I'm also the third child so Trey in Spanish means three," said Trey.
"A lot of people think that 509 is my area code, because I think it's like a place in Washington, with the area code 509. But back when I started in Minecraft and needed a name, I tried typing some names in and they weren't working so I had to add some numbers, and I literally just clicked random keys."
"I'm called Trey because my real name is Mizrrahim Morales III and I'm the third in my family and I'm also the third child so Trey in Spanish means three."
Trey509
Trey has to live up to his father and grandfather's legacy as he's named after both of them and he incorporated that into his own online identity and added a bit of randomness as well to spice things up and have people guessing.
Trey's inspiration and aspirations
"My biggest inspiration in the gaming scene is Nadeshot. It's crazy how he went from an esports player to a streamer and running one of the biggest esports organizations in the world. I think that's pretty inspiring." said Trey. "Shroud as well, he's a competitive player too. As well as a big time streamer."
"Other than competitive Fortnite player, I've been meaning to really get into streaming and content creation but what's really intrigued me lately is maybe having my own esports team one day down the line. I think that'd be pretty cool."
Trey looks up to Nadeshot because of his journey to owning popular esports and media organization 100 Thieves, making his intentions clear to one day start his own organization. No date is set in place, but it's something that's on his bucket list.
"Having a good sleep schedule and good time management is very important. I make sure to prioritize the right things before it becomes too late. I try to make sure I get everything done in a timely order so I can stream and compete daily as well."
Trey on being able to manage his time well.
Time management is something that a lot of people struggle with but Trey makes sure that doesn't happen to him as he has to keep up his daily schedule and put out content to go alongside his classes and compete in events.
Trey's thoughts on the scene and his rivals
"It'd be really cool to see collegiate Fortnite be as big and have what the community wants to the point of everyone in the collegiate scene knowing about it, like the collegiate Rocket League scene, because that's pretty big, so it'd be pretty cool to see Fortnite on that like kind of level."
"In order to grow, I think they need to start marketing, because the only people that I really see like doing stuff is Akron. I don't really see any other collegiate Fortnite teams doing anything. With it still being pretty new I would say there's tons of room for teams to get on the Fortnite bandwagon."
Collegiate Fortnite is still a relatively new thing with not many considering it to be one of the top titles as of right now but the scene is growing and Trey believes that if more universities were to market their players more then it will help the community as a whole and cites the collegiate Rocket League scene as inspiration for what the collegiate Fortnite scene could be.
"One year from now, I'd say that we'll see a few colleges start to pick up some more well known players and maybe some rivalries will start to grow as well as a possible LAN. Five years from now, maybe we'll see more LANs, more rivalries, full ride scholarships for Fortnite. Who knows? It'd be pretty cool if we saw that."
Trey gave his predictions as to what he believes the collegiate Fortnite landscape will look like one and five years from now and he's very optimistic about the future. I think a lot of the things he spoke about may become a reality long before the mentioned time frames because of how quickly the community is growing.
"TSM recently picked up EpikWhale and Reet so TSM is a big one. 100 Thieves, because they have rehx and Arkhram, and then there's some team called Team 33. That's been picking up a lot of high tier players. So I'd say those three teams are kind of people that I look out for," said Trey509.
"For collegiate I honestly think I'm the best on the West coast so I don't really look for anybody. But in the East, I would say probably Okis, he's a really good player. I would like to face Kuht, he's pretty good. He's the main Akron dude and then my boy Pfluger. He's the GOAT so I've got to look out for him."
Trey on who he views as competition in the collegiate scene.
His thoughts on the new season and reaction to Fortnite Collegiate Cup placement
"It's a pretty decent map change especially on the left side, you got I believe two to three new POIs, you got that Rave Cave and the Reality Falls and then they changed the Greasy Grove a bit so it's pretty cool. They added a few new guns, gave them some buffs, nerfed some stuff as well, which is pretty cool in my opinion. Competitive is looking pretty good right now for this season."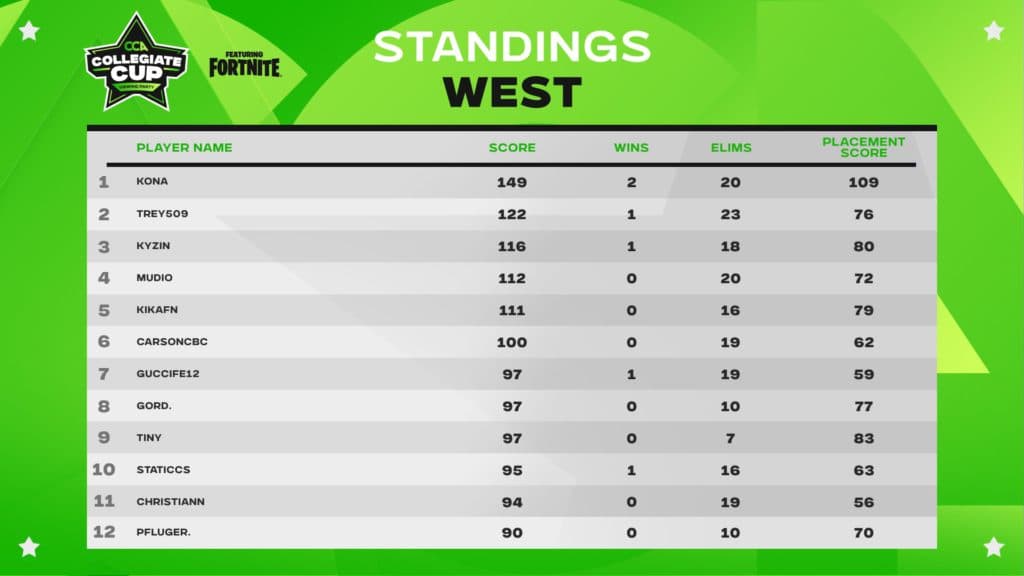 Trey finished second in the West in the first ever Fortnite Collegiate Cup.
"I wasn't too upset about not getting first, I had a pretty rough start in the first three games and I wasn't really playing like I normally did but I picked it up a 11 kill fifth place in the fourth game and then won the next so I picked it back up and was able to catch up to the top three but I'm definitely looking for that first place for next season."
He's been liking the recent changes to the game and is optimistic about this season and one of the things he'll be looking to do is correct the mistakes he made during the Fortnite Collegiate Cup and subsequent events. He was able to finish second behind Kona in the west side of things but he's hungry for more next time.
"I'm majoring in Computer Science right now but that may or may not change. I don't give it much thought but it's in the back of my mind."
He has a lot of time left in his collegiate career but as mentioned before, he has much bigger aspirations. I have no doubt that he has a long career ahead of himself in gaming whether it be as a player, coach, owner or something else. You can find Trey streaming almost every day on Twitch or on Twitter "tweeting way too much" like he said.
As part of my new tradition of ending these interviews, I was able to learn more about Trey in a rapid fire round. It turns out he's a Lakers fan just like me, he also enjoys playing the classic mobile game Clash of Clans, his favorite superhero is the Flash, he prefers DC over Marvel, he would love to visit Dubai and he believes Asia is the best region for esports outside of North America.
Let me know who you would like to see featured next in this series. I'll be back with another one next week and until then, stay ELITE!
Why not check out our previous CCA Fortnite Player Highlight articles: